Travel Bargain destination in California
IRVINE HOTELS - SUMMER GAS CARD SAVINGS DEALS
Get Gassed in Irvine for 2011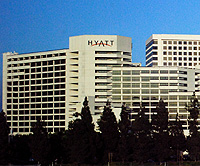 Okay, so who wants to pour the mortgage payment into the gas filler tube just for a summer vacation getaway. Staycations are in and help is at hand. Visit Irvine. Okay, not on the top list of destinations, but the travelers secret of Irvine – its easy to get to, right next to the John Wayne Airport, Orange county's answer to LAX, and its 15-20 minutes from the beaches of Laguna, the yachts and waterfront of Newport, the amusements of Disneyland and the mountain hills of the Cleveland National Forest. Irvine offers its visitors lots of its own delights, shopping, golf, dining variety, outdoor recreation, arts and culture, along with accommodations for every budget.

To ease the pain at the pump, several hotels in Irvine have joined to offer specials and discounts ranging from hotel credit to gas cards with savings up to $150. Whether you drive from somewhere in surrounding California, or fly in to John Wayne and rent a car to discover the wonders and pleasures of the Southland, a wide selection of hotels await to service you. Okay, maybe they won't wash your windshields, but a gas card can ease the vacation pain. Here are some of the deals available – most are valid until August 31, 2011, but some are even good up through December!

Courtyard Irvine John Wayne Airport - $25 Gas Card
Stay next to the airport for two nights, Thursday through Sunday and get a $25 Gas Card good at Chevron. Rates range from $109 - $139 plus tax with parking and in-room Internet access included.
Atrium Hotel - $25 Gas Card
Stay at the Atrium for two or more nights at $109 and get a $25 gas card.

Crowne Plaza Irvine - Hotel Credit
Present a gas receipt at check-in and get $25 per night off your room. (Best deal if you drive to get there!) The receipt has to be dated two days within arrival and you get up to the max of one receipt. Put $75 into the SUV and stay three nights. Offer is valid only on the best flex-rate.

Embassy Suites Irvine - $10 Gas Card
Book a suite at the Embassy Suites Irvine, and get a $10 gas card for each night you stay up to three nights. Breakfast and Manager's Reception also included. This one is good Sunday to Saturday through September 30, 2011. When you make a reservation check the "Gas Card" option under Special Rates.

Hilton Irvine - $25 Gas Card
Stay at the Hilton Irvine and get a $25 gas credit at the time of check in. Book the "Drive and Save" promotion on www.hilton.com for $109.00 plus tax Thursday through Sunday. They'll even discount parking for $6 per day and throw in complimentary in room wireless Internet! Room reservation must be booked with the Gas Card promotional rate to receive $25 credit given at the time of check in.

Hyatt Regency Irvine - Hotel Credit
Based on length of stay, guests receive a hotel credit to be applied at checkout, and is only valid on eligible charges posted to the guest's room bill, excluding room rate, taxes, gratuities, and service charges. This one is good past summer - all the way through December 30, 2011

Irvine Marriott - $50 Visa Gift Card
The summer package from Irvine Marriott includes deluxe accommodations, $50 Visa Gift Card to spend as you like including self-parking with rates from $149 per night. This is also valid past summer until Dec. 30, 2011. You get the $50 gift card at check-out. Use it toward your bill or spend it elsewhere. A limited number of rooms available.

Residence Inn Irvine Spectrum - $25 Gas Card
Stay near the Irvine Spectrum for easy shopping, dining and entertainment and get a $25 Gas Card for your travels after each paid night for a Studio Room rate. This can add up to a better deal too. Room includes full kitchen, breakfast buffet, in-room Internet access, and parking! © Bargain Travel West
Find the best hotel and travel deals in Irvine on TripAdvisor
Web Info
Destination Irvine
These articles are copyrighted and the sole property of Bargain Travel West and WLEV, LLC. and may not be copied or reprinted without permission.
See these other articles on Bargain Travel West: