Travel Bargain destination in California
OJAI MUSIC FESTIVAL – LIBBEY BOWL
The June Concerts Get a New Home for 2011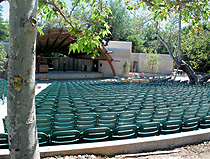 The Ojai Music Festival was first begun in 1947 and since become a tradition and not-to-be missed event for classic music fans in the Southern California region for its long list of musical greats who have played on its stage or directed its orchestras, composers Aaron Copeland and John Adams, artists Emanuel Ax and James Levine, conductors like Michael Tilson Thomas and Eka Pekka Salonen. The festival held every June among the trees in Libbey Park, named for the one time glass magnate who retired to Ojai and built the city's iconic mission style look. For 2011, the Ojai Festival gets a new bowl. After hosting the music performances under the open sky, the first bowl amphitheater stage in the park, a volunteer do-it-yourself community effort was completed in 1957 and inaugurated with a premier of Aaron Copeland's The Tender Land.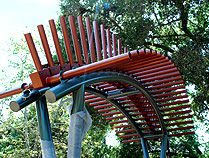 After more than 60 years, the Ojai Music Festival home gets a makeover, completed just in time for the 2011 season, with a grand unveiling Music Blast Grand Opening Celebration on the weekend of June 4-5 2011, the new Libbey Bowl makes its debut. Once again a community effort with contributions by more than 750 local families to create a state-of-the art modern venue for year to come, the seating views and lawns have been re-graded for better sightlines, with comfortable seats and construction with green materials. More than 30 trees have been planted for shade and enhancement of the wooded beauty. The historic twice planted oak with its snaking thick trunk remains aside the seating and entrance to the bowl now passes through the Sound Cradle Arch, an interactive tonal arch designed by sound sculptor Gerhard Trimpin which plays its own sounds with the passage of attendees should fascinate and envelope festival goes with musical atmosphere from first arrival. © Bargain Travel West

Ojai Festival Dates for 2011 June 9-12 Tickets

Find the best hotel and travel deals in Ojai on TripAdvisor
Web Info
Ojai Festival
Libbey Bowl
These articles are copyrighted and the sole property of Bargain Travel West and WLEV, LLC. and may not be copied or reprinted without permission.
See these other articles on Bargain Travel West:
OJAI & THE SECRET GARDENS JEEP TOUR
THE LAVENDER INN BED & BREAKFAST