Travel Bargain destination in Los Angeles
GRAMMY MUSEUM – LA LIVE
Music History and Memorabilia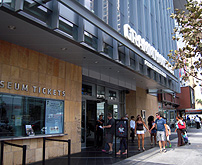 The Grammy Museum, opened in 2008 in the LA Live complex of Los Angeles across from the Staples Center (see LA Live Entertainment Center) in concert with the 50th Anniversary of the Grammy Awards. The experience offers four floors of interactive, entertaining and educational displays devoted to the history and winners of the Grammy Awards since the first was handed out in 1968. The museum's goal is to inspire visitors to discover the roots of musical genres and development through interactive touch-screens, archival videos, and recording booths. The museum offers a deep collection of historical music artifacts, clothing, albums, costumes and instruments from past Grammy Awards, as well as hand-scribed lyrics, recorded audio and video of artists, from song writers, musicians and performers.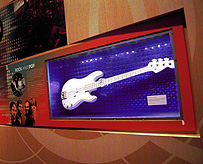 The museum explores the legacy of all forms of music, tracing back through the cultural roots of which began before the awards themselves began, influencing the artists of the modern era, right though the musical stars of today and tomorrow. You enter the exhibits from the fourth floor, working down through the floors. The first exhibit floor called Crossroads features headphone stations with touch screens allowing listening to the musical styles of artists of the varying genres, interspersed between the historical musical instruments and memorabilia. Sections are devoted to the likes of Woody Guthrie and Elvis Presley as well as today's top pop and rock artists.
A level down is the fascinating world of recording with six different interactive recording booths which allow visitors to learn about the stages of producing commercial soundtracks. Working with famous performers, producers and engineers, you can record beat tracks, play with reverb and sound levels, even record a singing or rapping track, then remix it to create your own cover version of a popular sound, perhaps needing a generous application of auto-tune. You don't get to take your recording with you, however.
The museum displays clothes and perfomance costumes worn by famous Grammy-Award-winning musicians and artists, from the likes of Jennifer Lopez, and Beyoncé, Michael Jackson, Kanya West. A wide screen demonstration theater shows the actual most recent Grammy Awards and the Clive Davis Theater on the second floor presents videos of the Grammy story and various programs. Temporary displays feature special collections, devoted to special artists, currently exploring the career of Whitney Houston. © Bargain Travel West
Compare the best hotel deals in Los Angeles on TripAdvisor
Web Info
Grammy Museum

These articles are copyrighted and the sole property of Bargain Travel West and WLEV, LLC. and may not be copied or reprinted without permission.
See these other articles on Bargain Travel West:
TCM MOVIE LOCATION TOUR - HOLLYWOOD
WALT DISNEY CONCERT HALL TOURS