Travel Bargain destination in Oklahoma
WILL ROGERS BIRTHPLACE & MEMORIAL
America's Most Famous Cowboy Humorist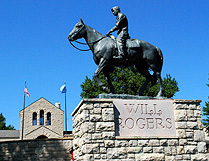 In the recent movie "Big Miracle" about saving a family of whales in Alaska, in one brief shot you might notice a street signpost pointing out the distance from Barrow to Will Rogers Birthplace. The sign points in the direction of eastern Oklahoma and the distance surely too far to walk. Why the sign? Will Rogers, America's famous down home humorist and original moralist, had very little to say about whales, but he died in a airplane crash on Point Barrow, Alaska on August 15, 1935, along with his pilot friend, Wiley Post., silencing the voice the "Cowboy Philosopher". The trail following Will Rogers needn't begin in Alaska, but in Claremont Oklahoma, near Tulsa and the town of Oologah.
Will Rogers Birthplace Ranch - Oologah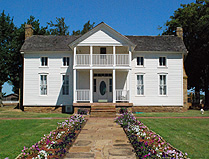 Will Rogers was born on November 4, 1879 on a ranch in Indian Territory of what is now Oklahoma and still the lands of the Cherokee Nation. His father Clement Rogers was a prominent Cherokee Senator and and local judge who built a ranch house in 1875 situated on the Verdoigris River. The ranch, later called the Dog Iron Ranch, for its unique brand improvised from a fireplace iron, once encompassed 60,000 acres and 10,000 Texas Longhorn Cattle and the two story house in formal Grecian revival style built of hand hewn Oak and Hickory logs and white painted clapboards gained the nickname of the "White House on the Verdigris".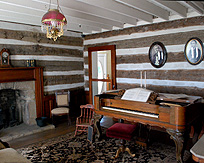 The house was moved from its actual original spot in 1961when the Army Corps of Enginieers built a dam, creating Oologah Lake, now a popular recreation spot, but covering much of the former cattle ranchland. The house where Will Rogers was born, despite its location change, remains much as it was when the Rogers live in it. Next to the house, an 1879 era correct barn, reconstructed by Amish farmjer carpenters after an earlier structure burned is still provides the atmosphere of a working ranch, which it still is, and a provides a snack bar entertainment area where the Will Rogers movie of rope tricks "A Roping Fool" runs on a loop.
Will Rogers Memorial Museum - Claremore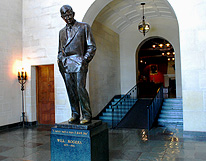 The memorial museum dedicated to Will Rogers was first opened on the anniversary of Will Roger's Birthday in 1938, three years after his death. The memorial was built on land Roger s and his wife bought in 1911, though much of their later life was spent in California during Rogers' movie making days. At the time of his death, Will Rogers was Hollywood's highest paid male star. He'd starred in 71 movies in his life, 50 of them silent films, and 21 "talkies". His first film was "Laughing Bill Hyde" in 1918 and his last "Steamboat Round the Bend" in 1935. For one of America's greatest stars, his films are rarely seen and many vanished. His father wanted him to run the family ranch and go into local politics, but he never thought of himself as serious enough and was drawn to the entertainment spotlight.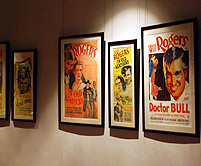 Will Rogers came into the public eye, first performing rope tricks on stage of the Vaudeville circuit. While performing in New York, the horse he usually stood on during his show didn't arrive and he just started talking on stage to fill time. The sophisticated eastern audience laughed at his folksy cowboy take on the world. He was hired by Florenz Ziegfeld to talk his way through set changes at the Ziegfeld Follies, becoming one of Broadway's biggest stars, and the moving picture followed. Most of what we know from Will Rogers' wit comes not from his stage performances by from his writing. By 1935 Will Rogers was the most widely syndicated newspaper columnist, writing over 4,000 daily and weekly newspaper columns, magazine articles and six books. He headlined America's first coast-to-coast radio broadcast in 1922 and starred in a national radio show on Sunday evenings from 1933 to 1935.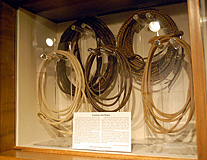 The Will Rogers Memorial & Museum houses eleven galleries of priceless artifacts and Will Rogers Memorabilia from his life as a working itinerant cowboy, rodeo and Ziegfeld Follies performer, and film star. The museum has two theaters where visitors can watch one of Will Rogers movies, and a documentary film on his life. The main theater, with interior walls lined with posters from the movies, presents daily shows introduced by a live Will Rogers impersonator. He performs a few simple rope tricks and introduces us to the lore, but to see the really quite amazing assortment of rope magic which made Will Rogers' name in his early performer days as "The Cherokee Kid" can be seen in the "Ropin' Fool" silent film he made in 1922, in another little tv theater space surrounded by saddles and ropes.

The original 15,000 square foot building made of fossilized native limestone was enlarged in 1983 with modern additions, much of it housing the family research library and offices. The archives include 18,000 photographs, original manuscripts, private letters, personal papers, motion pictures, home movies and audio recordings. In the cathedral ceiling lobby you'll find the famous bronze statue of Wioll Rogers in his iconic slack stance and tips of the boots shined bright with touches for luck.
Will Rogers Burial Crypt

Will Rogers most famous quote " I never met a man I didn't like" was something he wanted carved on his tomb. The family crypt is a short walk from the museum through the gardens grounds. undernaeth the terrace and behind the statue of Will Rogers on a horse. Tight and cramped and near total dark the family crypt is where the movie star humorist is buried with his wife, Betty and three of their four children. Curiously not in the family tomb, is Will Rogers, Jr, who gave us the most familiar memory of his father in a 1950s biopic.
Visiting the Will Roger Memorial Museum and Birthplace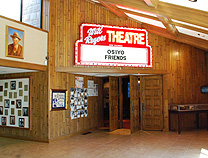 Both the memorial museum and the birthplace house are open 365 days a year. Admission is free with donation accepted. The museum is in the center of Claremore, just off the famous Route 66 route through Oklahoma and off the 44 Interstate. Follow state highway 88 to Lake Oologah and the Will Rogers Birthplace Ranch. You can picnic under the shade trees on the ranch property and there is an RV park on site. Just up the street from the Will Rogers Museum in Claremore is the fascinating JM Davis Arms Museum collection (see JM Davis Arms Collection). For pilots and aviation enthusiasts the Will Rogers & Wiley Post Fly-in is held on the grass runway strip at the ranch every August 14. For more Will Rogers in Oklahoma, the National Cowboy Museum in Oklahoma City features more Rogers memorabilia, including the original Dog Iron branding iron (see Cowboy Museum Oklahoma) and in the Oklahoma History museum, one of Wiley Post's airplanes hangs from the ceiling. © Bargain Travel West
Find the best travel and hotel deals in Tulsa on TripAdvisor
Web Info
Will Rogers Museum
These articles are copyrighted and the sole property of Bargain Travel West and WLEV, LLC. and may not be copied or reprinted without permission.
See these other articles on Bargain Travel West:
AMERICAN BANJO MUSEUM – OKLAHOMA CITY