Travel Bargain destination in Oklahoma
OKLAHOMA RAILWAY MUSEUM
Rail History and Train Rides in Oklahoma City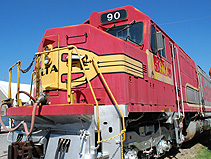 The Oklahoma Railway Museum is located in a northeast corner of the state capital city in what is referred to as the Frontier Country Tourism area just off the Interstate 35. A number of fascinating museums are parked in this neighborhood. The 45th Infantry Museum is just down the street and nearby the Women's Softball Museum and the Firefighters Museum, make for a day of exploration. The idea for a railroad museum began in the late 1990s but the museum opened at the location in 2002 operating on the tracks of the Missouri, Kansas and Texas railroad line. The museum is primarily an outdoor experience, featuring engines and historic rolling stock from the state's railroad operations and offering train rides.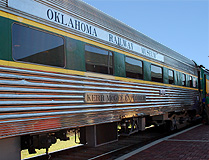 The Oklahoma Railway Museum (ORM) is home to several restored diesel railroad locomotives, a collection of passenger cars, and cabooses with many of the engines operational. The museum operates one 1950s streamline passenger locomotive with the Frisco Railroad insignia originally from the Northern Pacific and freight engines from the Santa Fe, Burlington Northern and Rock Island railroads. The 1960s era Sante Fe mainline ATSF 90 engine is painted in the classic "war bonnet" red and silver livery. The museum houses a number of artifacts from the Oklahoma Railway company which operated a trolley system in Oklahoma City until it ended operations in 1946. These items are displayed in the Frisco Pullman Car which is parked at the museum's historic Oakwood Depot building dating from 1906.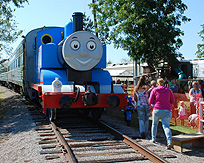 Operating train rides lasting about 35-40 minutes are regularly scheduled on the first and third Saturdays of every month from April through the first Saturday in September. Trains leave at 10am, 11am, noon, 1:30pm and 2:30pm. The museum also offers an annual Halloween Train on the nearest Saturday before October 31 and a Christmas Train on the third Saturday of December. Thomas the Tank makes an appearance for Day Out eith Thomas rides on selected dates in September and October. The Thomas engine doesn't actually pull the ride but is stuck onto the rear of a train pulled by diesel on the other end, but what does a kid know.
Visiting the Oklahoma Railway Museum
The museum is open every Thursday, Friday, & Saturday 9am to 5pm. Entrance is free. Train ride tickets are $12 for 13 years and up, $5 for children 3 to 12. Under 3 years are free. Theme holiday special train tickets are $15. Thomas the Tank days are $16 if purchased online and $18 at the museum, with advance purchase recommended. The museum is located at 3400 NE Grand Boulevard, at exit 131 off I35. © Bargain Travel West
Find the best travel and hotel deals in Oklahoma City on TripAdvisor
Web Info
Oklahoma Railway Museum
These articles are copyrighted and the sole property of Bargain Travel West and WLEV, LLC. and may not be copied or reprinted without permission.
See these other articles on Bargain Travel West:
OKLAHOMA CITY BOMBING MEMORIAL & MUSEUM
NATIONAL COWBOY & WESTERN HERITAGE MUSEUM
AMERICAN BANJO MUSEUM – OKLAHOMA CITY
ILLINOIS RAILWAY MUSEUM - UNION, ILLINOIS