Travel Bargain destination in California
MURPHY AUTO MUSEUM
Classic Cars Collection in Oxnard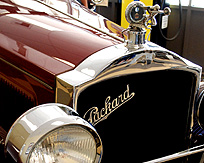 It's a little off the beaten path, among car shops and light industry in Oxnard. Within a former warehouse, you'll find jammed packed, fender to fender an amazing, decidedly eclectic collection of classic cars. An avid car collector while his medical practice was thriving, when Dr. Dan Murphy retired, he focused on his passion for cars and nostalgia. First housing his cars in Ventura starting in 2002, the collection moved to the larger facility in Oxnard three years later, where it has grown with the contributions of other collectors and enthusiasts.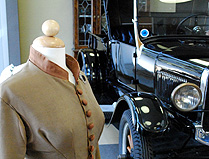 The Murphy Auto Museum began its collection focused on American classic cars, with a primary focus on Packards, those running board sedans from 1940's gangster movies. The museum collection has grown and evolved over time to form a display of over 40 vintage vehicles from other eras. As early as an antique 1903 Oldsmobile to the throaty Muscle Cars on the 1960s and 70s. The collection is never exactly the same as other collectors have joined in the mix of glistening pride on display. Packed on the shiny checkered tile floor hubcap to hubcap you'll find Cadillacs and Mustangs, race cars and limousines. Discover a real "Woody", that curious mix of car and luggage cart, designed principally to pick up passengers from the train depot, starting the name "station wagon" and later the symbol of the California culture, stuffed with surfboards sticking from the back.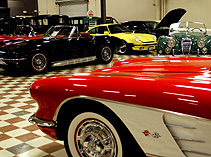 The Murphy Car Museum begins in the entrance with a classic car "showroom", which opens into the cavernous collection beyond, and the restoration garage at the back where the careful work on the next car for the display can be observed taking shape. Sprinkled among the cars are mannequins wearing vintage clothing and costumes from designer and collector Holly Gene Leffler representing styles from the 1890s to the 1970s to compliment the eras of the cars. In addition to the cars, is a vast model train layout created by the Gold Coast Model Railroad Club, which is usually active on the weekends.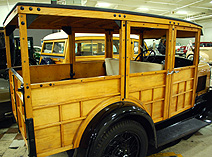 Just some of the cars you'll find on display in the museum include: a 1903 Curved Dash Oldsmobile, 1914 Ford Model T, 1927 Willys Knight, 1934 Packard V-12 Club Sedan, 1927 Packard 343 7 Passenger Touring Car, 1917 Marmon Pace Maker, 1970 Chrysler 300 Hurst Edition Hardtop, 1952 Chevrolet Suburban "Woodie", , 1932 Plymouth Coupe Street Rod, 1966 Chevrolet Corvette Stingray, 1969 Dodge Charger R/T, IROC Race Car, and even a 1968 Austin London Taxi.
The Murphy Car Museum is open on Saturdays and Sundays from 10 am to 4 pm. The Murphy Museum is a non-profit foundation. Admission is a suggested donation of $9 for adults, Children (12 yrs. & under) $5. © Bargain Travel West
Find the best hotel and travel deals in Oxnard on TripAdvisor
Web Info
Murphy Auto Museum
These articles are copyrighted and the sole property of Bargain Travel West and WLEV, LLC. and may not be copied or reprinted without permission.
See these other articles on Bargain Travel West:
BODEE'S RESTAURANT & TAVERN - OJAI
CHANNEL ISLANDS MARITIME MUSEUM