Travel Bargain destination on the California Coast

SALSA FESTIVAL OXNARD
Hot Music and Cool Latin Breezes on California Coast
It's strawberries in the spring but sizzling salsa in the summertime. Oxnard California is an community that's almost 70 percent Hispanic from its agricultural base, so its natural one of California's great parties for Salsa and Latin Jazz takes place in July as it has for the past 15 years within a an ocean's breath from the Pacific coast. Spicy food, hot music and cool crafts shopping highlight the two day weekend in July.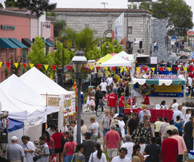 The festival takes place downtown at Plaza Park surrounded with the vendor marketplace booths offered gourmet salsas & sauces, boutique clothing, hand crafted jewelry, home décor and cultural crafts. And the Salsa dancing never stops! At the Salsa Tasting Tent dozens of different salsas are on offer, 500 gallons of it at Ventura County's longest salsa bar – from mild to five-engine-fire-alarm from local restaurants and salsa makers. The Salsa Tasting is $4 including the chips! Bring your own recipe and win $150 at the Great Oxnard Salsa Challenge. Pre-registration is necessary, just fill out the application on the Oxnard Salsa Festival website.
Aside from the salsa food on offer ranges from Mexican to Thai to Barbecue, carne asada to fish taco and frosty wine margaritas to cool burning tongues, and dance sweaty brows. Kids can learn to play the congas or make tortilla art at the "Salsa Art & Music Factory For Kids".
The main music stage with renowned salsa and Latin jazz bands jumps from 11am to 7 pm. Admission is free as well as parking all around the downtown location at Fifth and "B" streets. Oxnard is just off the 101 Freeway and hour northwest of Los Angeles. Or save the gas and take a train, about $18 from Union Station. © Bargain Travel West
Find the best hotel and travel deals in Oxnard on TripAdvisor
Web Info
Oxnard Salsa Festival
Visit Oxnard
These articles are copyrighted and the sole property of Bargain Travel West and WLEV, LLC. and may not be copied or reprinted without permission. Photos courtesy Oxnard Salsa Festival.
See these other articles on Bargain Travel West:
ANACAPA ISLAND CRUISES
Seagulls, Wildflowers and Whales in the Channel Islands
PASO ROBLES WINE FESTIVALS
Central Coast Wine Tasting

MISSION SAN JUAN BAUTISTA
One of the best along the El Camino Real
OJAI JEEP TOURS - WINE, OLIVE OIL & THE SECRET GARDEN
Cloud Climbers Tours All Around Ojai
MURPHY AUTO MUSEUM
Classic Cars Collection in Oxnard