Travel Bargain destination in Los Angeles
HAVE AN AWESOME DATE AT UNIVERSAL CITY WALK
Date Night Will Never Be The Same Again Deal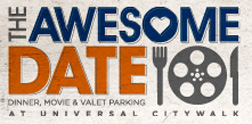 Dinner and a movie. Dinner & a movie. Dinneranamovie. It's such a cliche of the dating life it should have its own website. Well, it probably already does. Movies have gotten to be more expensive than they once were, with 3D and stadium seating and gotcha 360 degree multiplex sound, but are still one of the better entertainment bargains for a couple - and with a dinner - something to talk about. But if you're still watching your budget and looking for some savings on that hot date, if you're in the greater Los Angeles area or coming to town for that Universal Studios Tour experience (see Universal Studios Tour), since February 2011 the Universal CityWalk entertainment zone at Universal Studios is offering a date night value deal.
Universal CityWalk "The Awesome Date," is a convenient, flexible and exciting date night experience featuring dinner and movie for two, plus valet parking, for an entirely affordable $25 per person. That's a 50 dollar date for you guys with the pocket calculators and college loans to repay - though the popcorn is apparently extra, which may require another loan and 3D movies require an upgrade when making a reservation. Whether it's a romantic evening under the moon glow for two or a buddies night out on the town, the "Awesome Date" deal is designed to bring affordability, convenience, and flexibility to date night, while offering an variety of yummy dining options at participating Universal CityWalk restaurants, as long as you're prepared to not be dating on the weekend.
The Awesome Date package is available weekdays from Monday to Thursday and includes valet parking, dinner for two at participating Universal CityWalk restaurants and two tickets to a movie of your choice at the CityWalk Cinemas for $25 per person. Book reservations Monday to Thursday from 2pm until 8pm by calling 818-508-0711 ext. 305. Go to the CityWalk Cinemas on arrival and redeem the package. The especially prepared "dinner for two" menus include appetizers, entrées and beverages at the participating chow spots: Andrew's Panda Inn, Camacho's Cantina, Samba Brazilian Steakhouse & Lounge, Wolfgang Puck Bistro, Hard Rock Cafe Hollywood, Buca di Beppo, Jillian's, Johnny Rockets Restaurant & Sports Lounge and the Karl Strauss Brewing Company.
The CityWalk Cinemas feature 19 theaters with cozy, ultra-plush stadium-style "rocker" seats, state-of-the-art projection and sound system and nine 3D equipped theatre screens. if you want to keep the fun going apres movie, Universal CityWalk offers an endless combination of attractions, shopping and nightlife experiences, including indoor skydiving at iFly Hollywood, laughs at the "Jon Lovitz Comedy Club," a mechanical bull ride at Saddle Ranch Chop House, and black light bowling at Jillian's. © Bargain Travel West
Compare the best hotel deals in Los Angeles on TripAdvisor
Web Info
CityWalk Awesome Date

These articles are copyrighted and the sole property of Bargain Travel West and WLEV, LLC. and may not be copied or reprinted without permission.
See these other articles on Bargain Travel West:
HOLLYWOOD HERITAGE MUSEUM
The Jesse Lasky-DeMille Barn Movie Studio
BURBANK BOB HOPE AIRPORT
Fly into LA On-Time and Avoid the Hassle of LAX
ENDEAVOR SPACE SHUTTLE OVER HOLLYWOOD
Aerial Show for the History Books - Shuttle Arrival in Los Angeles