Travel Bargain destination in Los Angeles
ENDEAVOR SPACE SHUTTLE OVER HOLLYWOOD
Aerial Show for the History Books - Shuttle Arrival in Los Angeles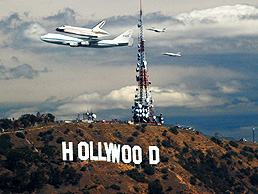 Okay, this isn't exactly a tourist travel story about Hollywood, as this event won't be repeating itself. A once in a lifetime, never to happen again moment in history. The last of the shuttle space program has ended and the last space shuttle, the youngest of the fleet made a cross country busman's tour to its new home in Los Angeles, where it it to be displayed at the California Science Center. On September 21, 2012, the space shuttle Endeaver, with a fighter escort announced its arrival with a flyover of landmarks in Southern California, from the Sabnta Monica Pier to Universal Studios, the Griffith Observatory and Disneyland.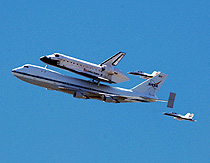 In anticipation of this event I drove up Mulholland Drive to an overlook above the Hollywood Bowl with the few dozen other hopeful observers. After cramming may car into the dusty hillside, with tires barely off the road, crammed in with a line of others, I grabbed my camera bag and made my way to a hilltop. A few of the many folks waiting had a route map of where the flight was to travel. Others were talking to friends on their cellphones, relaying reports of the Endeavor, mounted piggyback on a 747 once flown by Japan Airlines, as it made its way down the coast from San Francisco. The weather was a bit hazy, by otherwise a clear SoCal day.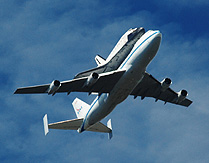 We could watch as the Endeavor and its fighter jet escort danced over the Los Angeles basin, looping over downtown in the distance, then head back around over the Getty Center then right along the Hollywood Hills ridgeline, roaring over our heads, almost seeming close enough to reach out and touch. It made a loop and headed back past the Griffith Observatory on a distant hill, heading toward Universal, passing right over the iconic Hollywood Sign, before heading down south and to its final landing, the last ever at LAX, Los Angeles International Airport.

The Endeavor Space Shuttle is due to be on display at the Science Center in Exposition Park near downtown Los Angeles. The shuttle will be displayed in an upright position as if ready for launch inside a specially built building. There will no visits inside the craft. A report of the Science Center will follow.
© Bargain Travel West
Compare the best hotel deals in Los Angeles on TripAdvisor

These articles are copyrighted and the sole property of Bargain Travel West and WLEV, LLC. and may not be copied or reprinted without permission.
See these other articles on Bargain Travel West:
TCM MOVIE LOCATION TOUR - HOLLYWOOD
SPACE SHUTTLE IN SPEYER GERMANY