Travel Bargain destination in Canada
GRAND ALLEE – QUEBEC CITY
Bars, Nightclubs and Restaurants of Nightlife Central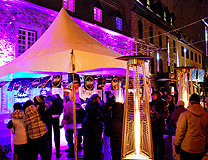 Whether on a visit to Quebec City for the crispy chill of the Quebec Winter Carnival when the urge to seek the heat of the indoors settles like the vanishing sun of winter (see Bonhomme's Carnavale), or the long days of September when the colorful leaves of autumn embrace the banks of the St Lawrence, the draw of a night of food and entertainment fills the mind with visions of a qourmet meal and a well mixed cocktail. Easily satifisfy the need on the city's Grand Allee, once the Champs Elysee of Quebec City. A long avenue which extends out of town, but filling a single block of former turn-of-the-century row-houses, around the corner from the Parliament and next to the historic Plains of Abraham, the Grand Allee (East) is packed with nightclubs, restaurants and cafes. From the modern tower of the Loews Hotel on one end to the Chateau Laurier Hotel on the other, the allee presents the town's most closely packed dining and entertainment zone, from drinks and dinner with a revolving spectaular view of the Quebec capital city along the mighty St Lawrence seaway to aerial acrobats over hip wine bars and packed to the gills nightclubs of Quebecois hotties shedding heavy coats at the door to dance to the wee hours in disco minimalist decoletage.

L'Astral Revolving Restaurant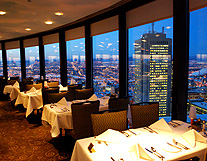 For the more sedate and relaxed, dinner or drinks with a view, the L'Astral Restaurant at the top of the Loews Le Concorde Hotel has been a top feature of the Quebec City skyline for a number of years, enjoying numberous award and prizes of its regional and international cuisine. The restaurant takes 90 minutes to make a full turn for a 360 degree panoramic vista, best enjoyed at sunset with views of the Old City with the landmark Chateau Frontenac and harbor beyond, to ships plying the river below past the fortress of the Citadelle. The prices at the L'Astral are surprisingly modest for an award winning restaurant with menu items starting well under $20. Dine or just go for a drink as the world slowly passes by beyond the windows. Free parking for up two and a half hours is available in the garage with validation. L'Astral

Savini Resto-Bar / Vinoteque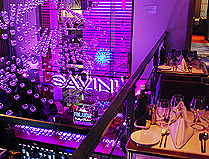 Savini is the talk of the town. Open a little over a year, this unique Italian Restaurant of colorful ultra-contemporary style is the concept of local visionary Oliver Dufour, and much more than just a restaurant and bar. A fairly strait forward but well executed Italian menu is enhanced the chic wine bar offering an eclectic array of special reserve wines and varietal vintages, with your own wine steward guiding the journey. Savini has the hottest happy hour in town, and in the après hours live music, a happening dance club and skimpy clad lady acrobats over the bar. Two floors of dining area provide for people watching in or with a group private lounges for escape from the eyes of the crowd with big screen TVs and dedicated phone lines. In winter, gather around the carve ice bar outdoors among the gas jet flames of the street side terrace. The menu at Savini is a bit pricier but an evening at Savini is an occasion to remember. Savini

Cafe Cosmos, Voodoo and Maurice Nightclub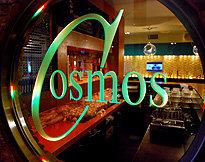 A large former Victorian House next to the Loews has been taken over by three separate restaurant nightspots. On the ground floor is Le Cosmos Cafe, trendy and refined coffee house meets restaurant and bar, with subdued lighting to lend a little mystery to the casual hip bar crowd. The Voodoo Grill above lends an exotic flavor, mixing restaurant and museum, featuring African Art, Bongo players and Baladi dancers to compliment the international cuisine in moody atmosphere.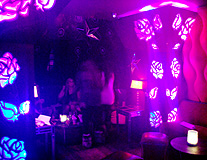 By far the hottest spot in Quebec city after dark is the Maurice Nightclub. Named for a Prime Minister of Quebec's long history and located in his former office building, the Maurice is anything but old and historic. Often sited as Quebec's best bar, on the weekends Maurice is three floors of tightly pressed flesh moving with vibrant dance rhythms in neon glow, bar big screen TVs and dark private cubby holes for risqué rendezvous and a line out the door to get in. The Societe Cigare on the street level is the spot below with a jazzy atmosphere for appreciators of a fine Dominican leaf or Cuban Monte Cristo to go with your Mojito or single malt scotch. Maurice Complex

More Grand Allee Bars and Restaurants

For the more casual performance house beer bar experience the live music in the basement space of the Bar L'inox presents live local music in a cozy underground with $3 Cosmos and elbow to elbow table space in a lively down home atmosphere. If your dining budget is tight and you want to maximize the night bar tab. The Rotisserie St Hubert Restaurant connected with but not part of the Chateau Laurier Hotel is a popular family restaurant with a relaxed atmosphere near the Abraham Battlefield Park. Other restaurants along the Grand Allee are the Au Vieux Canons, Maison Du Steak, La Vielle Maison du Spaghetti, Bistro Rivoli, and Asia. There is even a McDonald's in an old Edwardian era house front to grab a quick burger before exercising your dance shoes and of course, a Starbucks. © Bargain Travel West
Find best hotel and vacation deals in Quebec on TripAdvisor
Web Info
Quebec City Tourism
These articles are copyrighted and the sole property of Bargain Travel West and WLEV, LLC. and may not be copied or reprinted without permission.
See these other articles on Bargain Travel West:
HOTEL DE GLACE – QUEBEC CITY
Cuddle at Canada's Ice Hotel
VALCARTIER VACATION VILLAGE
Quebec's Family Winter Playground
SUN & SNOW AT SUN PEAKS
Winter in British Columbia, Canada
LA CITADELLE – FORTRESS OF QUEBEC
Museum of the Royal 22e Regiment