Travel Bargain destination in Canada
SUN & SNOW AT SUN PEAKS
Winter in British Columbia, Canada
By Valerie Summers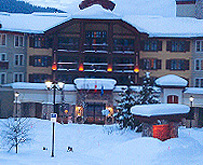 Listed as one of the top 10 ski resorts in North America by the Conde Naste Magazine Traveler Poll, Sun Peaks, British Columbia features a plethora of winter activities. To get to this snowy wonderland, travelers might opt to take the four hour drive from Vancouver along the Coquihalla Highway through some of the most spectacular scenery on the continent. Another option would be a leisurely overnight Via Rail train trip through the Canadian Rockies. For those eager to hit the slopes, Air Canada and Westjet Airlines provide a less than one hour flight from Vancouver to the town of Kamloops. The 45 minute drive from Kamloops into the Thompson-Okanagan Mountains presents a prelude to this winter wonderland, its dense evergreens laden with snow. A friendly atmosphere, great snow and reasonable prices await visitors to Canada's second largest mountain resort.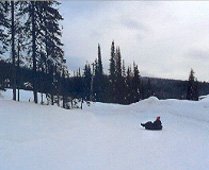 Although Sun Peaks exemplifies a year 'round destination, most people who visit during the frosty months come to ski. The resort encompasses more than 3,600 acres of ski accessible terrain featuring 122 ski runs and a snowboard park for the ski and boarding crowds of all levels of proficiency. Additionally 18 miles of Nordic trails for cross-country skiers rounds out the variety of skiing and boarding options. However, Sun Peaks also features an abundance of other winter activities. Conveniently situated at one end of the alpine town, the Village Day Lodge, the jumping off place for all activities, provides guides, equipment rentals, snacks and a place to meet up. One of the easiest and most pleasant ways to explore Sun Peaks begins by crossing over the Sun Bridge then snow-shoeing along the Valley Interpretive Trail and on to the Morrisey Ridge Trail. Snowshoeing, a sport for all ages and abilities, offers an opportunity to slow down and sniff the evergreens.
Snowshoe Golf and Huskies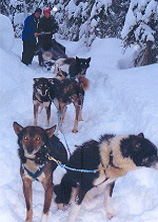 No need to forfeit your golf game this winter. Sun Peaks has begun another leisurely activity… Snowshoe Golf, a made in Canada experience. All that is needed is a pair of snowshoes, a golf club, some colored golf balls and a course map. For those up for a faster pace, dog sledding gets your adrenaline going and is an easy sport to learn. Just a few commands and instructions exist about what to do when going up and down hills, around curves and how to get the dogs to go faster or slow down. Alaskan Husky Adventures represents a good option as guests enjoy the exhilarating experience of mushing their own team through the valley or riding as a passenger on a guided sled through the snowy course. Other action sports available include a thrilling snowmobile ride or tubing down the snowy slopes. For those who prefer horses to dogs, nothing can be more romantic than a sleigh ride, snuggled under warm blankets, sipping hot chocolate under the moonlight. Two half brothers, a pair of enormous Clydesdales appropriately named Thor and Zeus sure footedly make their way through the quaint hamlet, its shops and restaurants festively lit and into Sun Peaks tranquil surrounding countryside.
Sun Peaks Winter Festival In January

For visitors to whom gastronomy offers a lure, that activity can be easily be indulged especially during the annual Sun Peaks Winter Festival of Wine. Nine January days of decadence celebrate the culinary side of Sun Peaks and the wines and ice wines of the Okanagen region. The event, which takes place January 16-24, 2010, presents an opportunity to experience the marriage of wine and gourmet cuisine in addition to enjoying a variety of snow sports. The festival features winemasters' dinners, seminars and progressive wine tastings. One of the top dining choices takes place at Mantles Restaurant & Bar at the Delta Sun Peaks Resort where Executive Chef David Tombs prepares sumptuous feasts. A regional wine from the Okanagan Valley compliments each gourmet course concluding perfectly with a goblet of unique ice wine.
In addition to the Winter Festival of Wine, several special events take place at the resort each year. The Sun Peaks Family Cup week includes a recreational race, skating party, awards ceremony and tubing party, January 4-10, 2010. The World Cup Speed Skiing event goes into action March 4-7, 2010 with 50 speed skiers from 10 countries converging for a race down the Headwalls ski run at Sun Peaks. Skiing, snowboarding, mushing a team of huskies or snowmobiling keeps visitors busy from morning until night.
Sun Peaks Resort
The luxury four diamond Delta Sun Peaks Resort features spacious alpine suites and fully furnished condominiums with wood burning fireplaces. It's ski-in/ski-out access makes it one of the area's most popular hotels, including an indoor/outdoor swimming pool, activity center, health club and Mantles Restaurant and Bar. Conveniently situated adjacent to the charming pedestrian friendly town center Sun Peaks features a variety of dining spots including the newly opened M Room and Morrisey's Public House. © Bargain Travel West
Find the best hotel deals, compare prices in Sun Peaks
Web Info
British Columbia Tourism
Discover Sun Peaks
Sun Peaks Resort

These articles are copyrighted and may not be copied or reprinted without permission. Photos and text copyright Valerie Summers. Valerie is Editor of the Southern California Guide
See these other articles on Bargain Travel West:
VISIT VANCOUVER FOR THE WINTER
Athletes and Entertainment

VANCOUVER'S GASTOWN
Time to Blow Off a Little Steam
HOTEL DE GLACE – QUEBEC CITY
Cuddle at Canada's Ice Hotel