Travel Bargain destination in California
TOYOTA LONG BEACH GRAND PRIX
IndyCar Racing Returns to the Shoreline Streets in April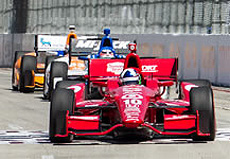 On April 21, 2013, open wheel racing cars will roar through the street of Long Beach for the 39th straight year. In 1976, Long Beach had fallen, like many cities into a spiral of urban blight. The RMS Queen Mary ocean liner had found a permanent berth in retirement as a hotel and was attracting visitors to the harbor, and the ferry to Catalina was busy, but the downtown streets where showing a bit of seediness. An auto race fan and travel agent named Chris Pook struck on an audacious idea to put Long Beach on the international radar as a destination and spark a financial and tourist revival. He proposed an auto race through the streets. At the time, the Monaco Grand Prix was the only world class racing event held on major city streets, and its legendary history had made it famous. Pook imagined a formula one race could do the same for Long Beach.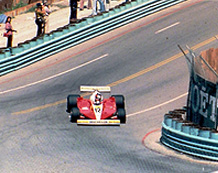 The first race through the streets was a Formula 5000 race, the American version of open wheel road racing which had appeared at Laguna Seca, Watkins Glen and other road circuits, while Indy cars were still just going in circles. A year later, the first Formula 1 Grand Prix race ran through the streets of Long Beach, won by Clay Regazzoni in a Ferrari. Not quite enough to peak the American imagination, but when Mario Andretti beat Jody Scheckter and Niki Lauda across the finish line to become the first American driver to win an F1 race in a U.S. Grand Prix, Long Beach was firmly on the map. For the next six years the Formula One stars and international flair came to the streets every spring with the likes of Jacques Laffite, World Champion Emerson Fittipaldi, Nelson Piquet, and Carlos Reutemann, behind the wheels of marques like Marlborough McLaren, Lotus, Brabham, and Renault now still to be seen in historic races.

Toyota's North American headquarters was just across the 405 Freeway and in 1980, the race took on the moniker, the Toyota Grand Prix of Long Beach, but the costs of the Bernie Ecclestone's international F1 circus were growing, and Indy Champ cars were adding road courses to the ovals. In 1984, the Long Beach Grand Prix, switched from F1 to the strictly American open wheel race cars and never looked back. In 2008, the Grand Prix Association of Long Beach signed with the current INDYCAR organization and the first IZOD sponsored IndyCar races ran in 2011.
The Toyota Grand Prix of Long Beach is now home to the sleek new cars powered by turbocharged engines from Honda and Chevrolet driven by Indy racing royalty like 2012 series champion Ryan Hunter-Reay, former Long Beach winners Helio Castroneves, Dario Franchitti and Will Power, along with Marco Andretti and Graham Rahal charging through the the streets of the revitalized ocean side city for teams like Andretti Autosport and Penske.

Toyota Grand Prix of Long Beach for 2013, April 19-21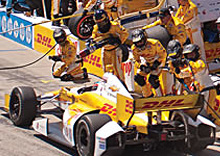 A "race" event is more than just roaring cars. To attract and entertain scores of fans for the weekend the circuit features live music concerts, family activities, and a Lifestyle expo. The racing weekend features a number of racing styles, aside from the main event IZOD IndyCar Series on Sunday, the Tequila Patrón American Le Mans Series will run on Saturday afternoon, with five classes of the most exotic sports cars, race prepared version of Ferraris, Porsches, Corvettes, Aston Martins, BMWs, along with the top running Le Mans racing prototypes from Audi and McLaren. The popular Toyota Pro/Celebrity Race is a 10-lap sprint on Saturday where famous faces from movies, music and sports race for charity, banging door to door with professional race drivers in identically prepared Scions. Formula Drift is a new fan favorite with the best drifting drivers smoking tires as they slide through 11 tricky turns on the Grand Prix circuit, held on all three days of the event between the main races. On Sunday following the IZOD IndyCars, the Pirelli World Challenge will see hot exotics like Porsche, Lamborghini, Chevrolet Camaro, Ford Mustang, Cadillac, Volvo, Nissan bang and bump each other for an hour. Firestone Indy Lights, featuring the young future stars of Indianapolis racing will compete in an hour long race on Sunday morning and Robby Gordon's OFF-ROAD Stadium SUPER Trucks will get airbourne from metal rams on Shoreline Drive for a 20 minute exhibition of horsepower and big tires.

Music Concerts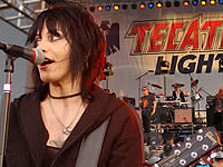 The LBGP Weekend also offers concerts for race fans after the motors hanve gone quiet. After the racing cars have finished on Friday night, the Tecate Light Fiesta Friday Concert will feature the best in Latino music. Past acts have included Belanova, El Tri, Moderatto, Fobia and Molotov. On Saturday night, the Tecate Light Rock-N-Roar Concert is headlined by a top rock-n-roll band. Past performers have included Cheap Trick, Third Eye Blind, Goo Goo Dolls, Gin Blossoms and Pennywise. For 2013 Joan Jett returns for another rockin' rave. © Bargain Travel West
Compare the best hotel deals in Long Beach on TripAdvisor
Web Info
Toyoto Grand Prix Long Beach

These articles are copyrighted and the sole property of Bargain Travel West and WLEV, LLC. and may not be copied or reprinted without permission. IndyCar photos coutesy LBGP.
See these other articles on Bargain Travel West:
FERRARI STORE - BEVERLY CENTER
LA LIVE - DOWNTOWN LOS ANGELES