Travel Bargain destination in Los Angeles

FERRARI STORE - BEVERLY CENTER
Prancing Horses and Scuderia Red Merchandise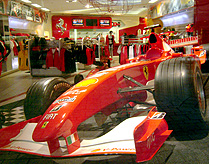 A mall is a mall. The Los Angeles area has a bunch of them, enclosed shopping malls, themed shopping malls, upscale, downscale, suburban and even with elephants and Oscars (see Hollywood & Highland). And a store is a store – unless you're a dedicated European Formula 1, get up at 4 in the morning to watch the Italian Grand Prix on Speed Channel race car fan. Especially a fanatic member of the "Tafosi" of the iconic red Scuderia Ferrari. In 2009 and 2010, the Italian exculsive sports and racing car manufacturer from Modena has been taking its familiar brand worldwide. Ferrari has opened consumer stores offering a range of goods and products featuring its prancing horse logo and unmistakable red color and yellow brand name. Ferrari has opened its exclusive stores in London, New York, Las Vegas, San Francisco, and now Los Angeles at the Beverly Center.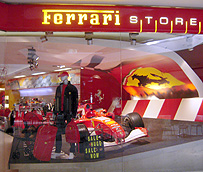 If you can't afford to buy a Ferrari (or even if you can), it used to be you'd have to go to a race track to come away with Ferrari brand hats and jackets, but now you can just go to the shopping mall. The Ferrari Store, aside from the eye attraction magnet of an actual Scuderia Ferrari FI race car on display in the window, the Ferrari Store features for sale lines of designer clothing, jackets, hats, Jacquard ladies handbags, watches, laptop computers, kid stollers, cute stuffed bears in mini Ferrari gear, scale model cars, GTO to F10, bikes and even lingerie and swimwear. Ferrari offers it products online if you can't get to one of its flagship stores, but if you're in L.A. - going shopping Ferrari is like being a motorhead in a camshaft candy store.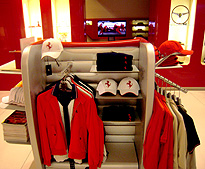 The Beverly Center in Los Angeles is an indoor upscale shopping mall of three floors at the corner of La Cienega and Beverly Boulevard with stores like Bloomingdales and soon to open a new FAO Schwarz not in but just brushed up against Beverly Hills. The Ferrari Store is on the upper level next to the Macy's. Parking in the Beverly Center is $1 per hour for the first four hours. Other shopping nearby is the Grove on Fairfax, the Beverly Connection across the street and Rodeo Drive not far away. © Bargain Travel West
Compare the best hotel deals in Los Angeles on TripAdvisor
Web Info
Ferrari Online
Store Locator

These articles are copyrighted and the sole property of Bargain Travel West and WLEV, LLC. and may not be copied or reprinted without permission.
See these other articles on Bargain Travel West:
LA LIVE - DOWNTOWN ENTERTAINMENT
MOTION PICTURE ACADEMY - SCREENING EVENTS