Travel Bargain Destination in Illinois
DONLEY'S WILD WEST TOWN - UNION
Americana Antique Museum & Family Amusement Theme Park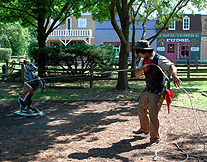 The Wild West show still lives in Illinois! In days of yesteryear when Roy Rogers was a singing cowboy, Lash Larue, the original "man in black" rode in the rode in the western cinema serial, and the Lone Ranger was still a hero and not a comic sidekick… the Wild West Town was a fairly ubiquitous roadside attraction, with bad guy cutouts, stagy shootouts, a few donkey rides and photo booths along the byways of America. The western cowboy has faded a bit as an amusement attraction in the current world of the high tech corporate theme park, but in northern Illinois about an hour from Chicago, in the small town of Union, the family amusement old west entertainment attraction is very much alive and well at Donley's Wild West Town.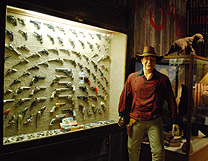 A complete family run affair since Larry Donley ran a gas station in the country road trip days before the super highway. An avid collector in tough economic times, Mr. Donley would accept the odd artifact in trade for services when cash wasn't handy. His collection western memorabilia grew so large a building was needed to hold it all. In 1974, the building turned into a museum, charging a dollar to see the remarkable collection, then fifteen years later, the Donley Wild West Town opened, and has been growing ever since, now operated by the sons.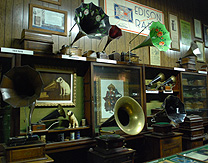 A rare combination of cultural museum and family amusement park, the indoor original museum section is more for adults to wonder at the large collection of Americana antiques gathered in one place, with faux store front displays of an old town as America used to be. An amazing collection of mechanical musical instruments and phonographs where you'll find the RCA mascot listening to "his master's voice" one of the largest in the country, takes up nearly an entire saloon sized room. Fascinating are the collection of cowboy guns, plaster death masks of actual outlaws and Civil War artifacts.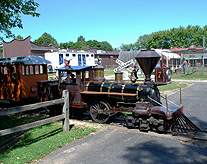 Outdoor through the museum is a total kids world with Runaway Mine rollercoaster, Pony Ride, Gold Panning, Canoe Ride, Kid-powered hand cars, a Petting Zoo for getting up close with the miniature horse and animals. Little Buckaroos can try their hand at roping in the ring with statuary steer, shoot at the bow and arrow range, wield a slingshot, or practice the now rare and maybe a little politically un-correct Tomahawk Throw. The C.P Huntington miniature riding railroad makes a circuit around the park pulled by an authentic scale 1863 steam engine.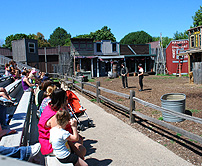 The Wild West show in the arena present a comedic rendition of old west town shenanigans three times a day. The Territorial Jail offers accommodation for outlaws who get out of line, arrested by the Marshal, though the bail for getting out of jail for the rowdy arrestees is just a song. A collection of stores for goods to take him from western wear to toys and rocks and minerals and refreshments from old fashioned ice cream to sarsaparilla (which tastes pretty much like root beer) at Clayton's Saloon. Full family meals can be had at the Old West Steakhouse and Saloon, located next to the museum and park (not requiring park entrance).
Visiting Donley's Wild West Town
The park in Union is 60 miles west of Chicago, between Elgin and Rockford. The park is open daily 10am to 6pm in summer, June to August, and Weekends in May, September & October. Closed from November to April. Admission is $16 including all rides and attractions. Children under 2 are free. The Wild West Town is very close to the largest railway museum in the midwest (see Illinois Railway Museum), worth the trip for both. © Bargain Travel West
Find the best travel and hotel deals in Illinois on Trip Advisor
Web
Wild West Town
These articles are copyrighted and the sole property of Bargain Travel West and WLEV, LLC. and may not be copied or reprinted without permission.
See these other articles on Bargain Travel West:
TINKER SWISS COTTAGE MUSEUM - ROCKFORD

ANDERSON JAPANESE GARDENS -ROCKFORD