Travel Bargain destination in Los Angeles
HAUNTED HOLLYWOOD TOUR
Ghost Stories of the Dead and Famous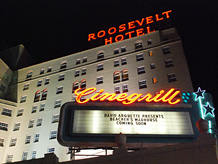 Hollywood can be a creepy place without encountering the ghosts of dead celebrities. You never know when some costumed character is going to reach out and grab you for a picture, or a worse, some sallow-eyed slickster will tell you have the perfect look for a movie starlet, if only you'll sign a management contract and pay for dancing lessons, acting lessons, headshots and a showcase pitchfest. But if you're visiting the land of tinsel dreams, and want to hear some of the real Hollywood horror tales, of murder, suicide and fame fueled drug overdoses. Get on a mini-bus on a weekend evening for the Starline Haunted Hollywood Tour.
The tour is one of many ways to see Hollywood and Beverly Hills. But why wait until Halloween to explore where restless spirits roam. This group tour will take you to some of the notorious spots for paranormal activity, with tales of creepy spirits taking their turn for a close-up. Walk where paranormal investigators have investigated to capture EVP's and Digital Voice recordings of ghosts that are trapped for eternity, not unlike the many hopefuls who come to be famous and end up at Burger King.
This is an entertainment tour with stories that will scare, shock, or move you with tragic turns of fate. You'll hear some of the behind-the-scenes secrets of the tragic deaths of the likes of Marilyn Monroe, River Phoenix, Jim Morrison, Dorothy Dandridge, Janis Joplin, Harry Houdini and John Belushi. The trip is intended to be fun for the whole family and promises you might even see a ghost, (who hopefully won't grab you to take a picture).
This 2-Hour Tour departs from the Starline Tours Terminal at the famous Chinese Theater at 6:30 pm every Friday and Saturday. Or with select Pick-Up from your hotel at 12:30 pm. Starlines Tours is offering this 2-Hour Tour for a promotion price of $40 Adult (12 and older) and $32 Child (6-11) (standard price $40/$32). Online promotion reservations can only be made up to 24 hours before scheduled tour departure time. For reservations less than 24 hours before tour departure time, call 1-800-959-3131. © Bargain Travel West
Compare the best hotel deals in Los Angeles on TripAdvisor
Booking Info
Haunted Hollywood Tour

These articles are copyrighted and the sole property of Bargain Travel West and WLEV, LLC. and may not be copied or reprinted without permission. Starline Tours is an advertiser on this site.
See these other articles on Bargain Travel West: