Travel Bargain destination in Los Angeles
MADAME TUSSAUDS – HOLLYWOOD
Wax Movie Stars of Hollywood Boulevard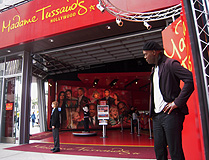 In a Tinsel Town world of botox and eyebrow lifts, it can be said that Hollywood is already the home of waxwork pseudo-celebrities with hollow souls and stiff faces, and real honest-togod movie stars very hard to find, but now you can hobnob with the famous glamour star faces of the entertainment firmament in real - wax! Madame Tussauds, whose wax figure museum first opened in London in 1835 and now with branches around the world, made the idea of seeing the famous and far away touchable and real for millions, has come to Hollywood Boulevard. Other Madame Tussauds Wax Museums focus more on historic or political or world famous and often mostly dead figures, but the Hollywood installation is all about movie stars, A-list directors and Hollywood icons.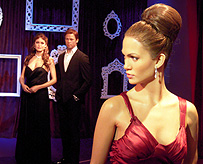 The Madame Tussauds in Hollywood is located right next to the famous Grauman's Chinese Theater with all the footprints and handprints in cement (see TCM Starline Movie Location Tour) and doors down from the Dolby Theater at Hollywood & Highland where Hollywood stars strut the red carpet once a year to collect their Oscars at the annual Academy Awards (see Hollywood & Highland). The live star costumed impersonators who once crowded Hollywood Blvd in front of the Chinese Theater have moved on to Las Vegas, so to get your picture taken with your favorite movie star, from Johnny Depp to Denzel Washington, or take direction from Quentin Taratino, Madame Tussauds is the best bet, unless you want to prowl the Sunset Strip following the gangs of paparazzi chasing the latest TMZ tipoff.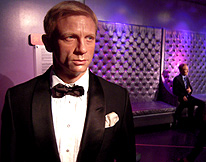 The wax figures at Madame Tussauds are very realistic and lifelike, set in thematic settings, with the ability for visitors to get up close and personal with the famous figure rather than behind ropes, a hallmark of the Tussauds, so you won't be disappointed if you don't mind the price, and not to be confused with the Hollywood Wax Museum two blocks to the east, a longtime fixture of "The Boulevard" rather notorious for its rather indifferent looking figures. Here you're allowed to hug your favorite next to to get a photo snapped with the rich and famous generally otherwise untouchable. Bond with James Bond or get a close look at Brittany Spears, set on the settee with Conan O'Brien, check out Jennifer Lopez checking out Brangelina, or have a drink at the bar with Ryan Seacrest.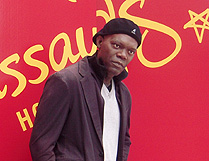 Madame Tussauds is open 365 days a year from 10am in the morning on weekdays to 10pm in the summer and 9pm the rest of the year. Saturday 9am to 11pm and Sunday 9am to 10pm. Madame Tussauds is not cheap. Admission for adults is $25, Sudents and Seniors (60+) $20 and Children 4-12 $18. You can get a 10% discount by ordering a "Priority Entance" ticket online in advance, or if you stop by the Hollywood Tourist Office at Hollywood & Highland you can find a coupon flyer for $5 off each ticket, for a family up to $30 off. The Hollywood Madame Tussauds Wax Museum is not as packed at the London one, so you probably won't need to worry about the "priority", there's lots else to do around if there's a line, which is not that likely. With a Go Los Angeles Card
for multiple attraction admissions you can get a 50% discount at Madame Tussauds. © Bargain Travel West
Compare the best hotel deals in Los Angeles on TripAdvisor
Web Info
Madame Tussauds

These articles are copyrighted and the sole property of Bargain Travel West and WLEV, LLC. and may not be copied or reprinted without permission.
See these other articles on Bargain Travel West:
HOLLYWOOD HERITAGE MUSEUM
The Jesse Lasky-DeMille Barn Movie Studio
SANTA MONICA PIER
Historic Amusements of the Pacific Park
LA BREA TAR PITS & PAGE MUSEUM
Ice Age Fossils in Los Angeles
BURBANK BOB HOPE AIRPORT
Fly into LA On-Time and Avoid the Hassle of LAX
GRAMMY MUSEUM – LA LIVE
Music History and Memorabilia
HAUNTED HOLLYWOOD TOUR
Ghosts of The Dead and Famous
WARNER BROS STUDIO TOUR
The Best Pure Movie Studio Tour