Travel Bargain destination in Arizona

HOTEL VALLEY HO & TRADER VICS SCOTTSDALE
Revitalized Arizona Celebrity Chic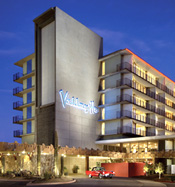 The Hotel Valley Ho in Scottsdale, Arizona was originally designed in the nostalgic nineteen fifties and found its place as a luxury getaway for Hollywood Celebrities after opening in 1956. Before Las Vegas became the hip escape playground, heading east in the desert to avoid the curious eyes of the Hollywood Press, perhaps even more voracious in the heyday of the Hollywood "star system" than it is today with the paparazzi and the likes of TMZ and video. The Hotel Valley Ho's mid-century design is suggestive of the natural stone and flat plains design elements of that classic house set on the edge of Mount Rushmore in Hitchcock's "North By Northwest".
The Valley Ho in downtown Scottsdale was reopened in 2005 and has returned to an almost lost hipness with redesigned retro-chic signature guest rooms that feature tile baths with translucent walls, some with tubs in the middle of the room, flat screen TVs and WiFi. Rooms open on a glass wall onto private balcony's or patio presenting views of Camelback Mountain, with suites and cabana rooms for that Hollywood glamour secret tryst romantic getaway. The Valley Ho Spa offers personal training, yoga and Pilates for that movie star body.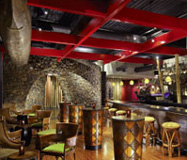 In a dwindling universe of that ode to fifties style and movies stars meeting for an umbrella'd drick in the quiet dark corner of Polynesian kitsch, the Valley Ho is one of the location of Trader Vic's from wence the Mai Tai originated. Just recently opened in 2006 the Valley Ho's Trader Vics is reborn with a desert flair with indoor dining and landscaped patio. (also see Trader Vic's Munich). Regular music performances or jazz, funk and fusion around the pool are available to hotel guests and Diamond Club tickets at an exclusive discount for a Diamond Backs Baseball and pool party getaway weekend. © Bargain Travel West
Read review of Hotel Valley Ho on TripAdvisor
Web
Hotel Valley Ho
These articles are copyrighted and the sole property of Bargain Travel West and WLEV, LLC. and may not be copied or reprinted without permission. Photos courtesy Hotel Valley Ho.
See these other articles on Bargain Travel West:
TAOS – SKI VALLEY
A Little Bavaria Alpine Skiing in the Southwest

FORMOSA CAFÉ AND JONES
Hip Hollywood Never Gets Old