Travel Bargain destination in California
COVERED WOODEN BRIDGE OF KNIGHTS FERRY
River Rafting and Picnic at Gold Rush River Historic Site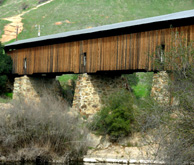 Forget the Bridges of Madison County, why go to Wisconson? The longest, and one of the oldest, authentic covered wooden bridge west of the Mississippi River is in California. The Knights Ferry Bridge in Stanislaus county, off of Highway 108/120 on the way to Yosemite National Park or the Sonora Pass had been a unique sight in the golden hills spanning the Stanislaus River since 1863. In the gold rush era, the Knights Ferry crossing on the old coach road from the the port at Stockton to Sonora in the gold Mother Lode (see Columbia - Gem of the Southern Mines). First a ferry boat crossing then later a bridge purportedly designed by Ulysses S. Grant when only an Army Captain (see Murphys Historic Hotel).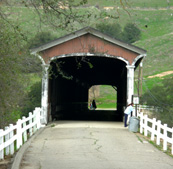 The first bridge was washed away along with most of the town of Knights Ferry in 1862. The current wooden bridge structure, longer than a football field, carried traffic until 1981 and other than some repairs and minor modifications has remained unchanged for 140 years. When the railroad bypassed the town, stopping in Oakdale instead (see Oakdale - Gourmet Cowboy Country) and later when the highway was constructed following the old stage road, the bridge and the town of Knights Ferry fell into near ghost town status, having remained a quiet bucolic watering hole, retaining much of its old west charm.
The Knights Ferry covered bridge is now maintained by the US Army Corp of Engineers as part of the Stanislaus River Parks. Free scenic picnic areas lie within sight of the bridge under the trees along the banks of the Stanislaus River and is the launch point for Stanislaus River rafting trips. This section of the river is for mild class rafting adventures, perfect for families and less than 2 hours from the Bay Area. Two companies offer rafting, River Journey 1-800-292-2938 and Sunshine Raft Adventures 1-800-829-7238.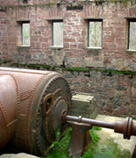 Some standing portions of the mill which stood beside the bridge, and other original buildings of the old gold rush period remain. The old mill is now part of the river park, while many of the buildings of the town of Knights Ferry are from the 1850-1860s. The Army Corps of Engineers Information and Visitors Center houses a small museum about the local area. Admission to the Stanislaus River Park is free, but no camping. Watch for the turn-off sign on Highway 120/108 about 12 miles east of Oakdale. © Bargain Travel West
Find the best hotel deals, compare prices in Oakdale on TripAdvisor
Web Info
River Rafting
River Journey
Sunshine Raft Adventures
These articles are copyrighted and the sole property of Bargain Travel West and WLEV, LLC. and may not be copied or reprinted without permission.
See these other articles on Bargain Travel West:

JAMESTOWN MOVIE STEAM TRAIN
California Gold Country Movie History
A PASS FOR ALL SEASONS
U.S. Federal Land and National Park Use Passes
CALIFORNIA'S SCENIC GOLD HISTORIC ROAD
Driving the Forty-Niner Highway State Route 49
MESOTHELIOMA - ASBESTOS LIABILITY
Abandoned Mines and Movie Effects