Travel destination in Los Angeles
THE GEORGIAN HOTEL
Art Deco Ocean Views in Santa Monica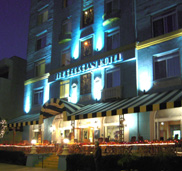 Santa Monica is often called California's "left coast" for its politics, but since the Red Cars carried Southern California's dry land bound citizenry to the beaches in the 1930's, Santa Monica has been the symbol of the casual sunshine lifestyle. Art Deco design was all the rage in oh so moderne Los Angeles in the 30's. Many examples are gone, or remain only as a few vestiges of lost landmarks. The Georgian Hotel, built in 1933 at the height of the era, rose 8 stories on Santa Monica's Ocean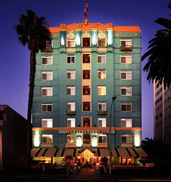 Boulevard, with views and classic comfortable veranda overlooking the washed sandy beaches below the cliff. Hollywood came to call, escaping the valley to beat the heat when the "June gloom" and Pacific breeze would shade the coast. A "speakeasy" restaurant in the Georgian Hotel's basement served bootleg liquor to the likes of Clarke Gable, "Fatty" Arbuckle and Carole Lombard. In the 1960's the Georgian Hotel was turned into an apartment residence where Rose Kennedy would entertain political dignitaries and movie stars. The 70's saw the decline, but old has seen a revival in California.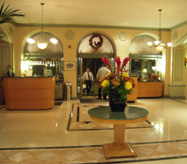 The historic Georgian Hotel has been renovated to its earlier glory as one of the Historic Hotels of America. With its location across from Santa Monica's State Beach, views of the Santa Monica Pier's new Ferris wheel (see Santa Monica Pier), a short walk to the restaurants, clubs and movie theaters of the Third Street Promenade, the Georgian Hotel offers a unique city hotel experience. Pacific sunsets from front facing rooms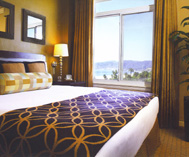 or dining at the Veranda Restaurant compliment the feeling of the LA of days gone by with the modern ameneties of LCD flatscreens and goose down comforters. For those visitors to California unfamiliar to the LA area landscape, from its location on Ocean Boulevard just off the corner of Santa Monica Boulevard, Beverly Hills shopping and Hollywood are a straight drive away. The Georgian Hotel, managed by the Broughton Hospitality Group as a luxury style hotel is pricier than a motel, but offers bed & breakfast packages and suites in an historic unique setting. © Bargain Travel West
Book at deal at The Georgian Hotel
Find best hotel and travel deals in Santa Monica on TripAdvisor
Web Info
Georgian Hotel
These articles are copyrighted and the sole property of Bargain Travel West and WLEV, LLC. and may not be copied or reprinted without permission.
See these other articles on Bargain Travel West: