Travel destination in Los Angeles
SANTA MONICA HOSTEL
Hostelling International's Los Angeles Hostel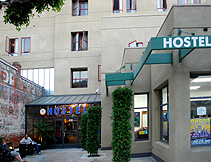 I recently saw on a travel message board a question about the location of the hostel in Santa Monica. You probably can't find a better location - with one caveat. The hostel operated by the Hostelling International group is right in the heart of Santa Monica's hip westside tourist and entertainment area. Around the corner from the Third Street Promenade, the popular pedestrian zone with shopping, restaurants, bars and clubs of all variety, and a block from Ocean Avenue which overlooks the beach, a short walk to the famed pier (see Santa Monica Pier). A sub-station of the Santa Monica Police is even right across the street. Okay, but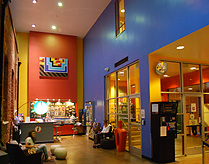 what's the catch? – Maybe tough for smokers. The city of Santa Monica has recently passed new anti-smoking ordinances, banning the habit from public spaces. So, bring your patch. First opened in 1990, the recently completely renovated Santa Monica Hostel is largest purpose built hostel in the USA, with 260 beds on four floors of dormitory style accommodation, with some private-family rooms, and dorms with en-suite bathroom facilities, provided with a common kitchen, movie, game and tv rooms, a computer center, library, and laundry facilities.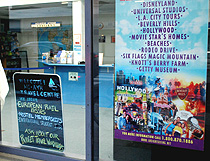 Daily tour excursions with discounted pricing for hostel guests depart from the front door to Disneyland Resort, Universal Studios, Hollywood (see Hollywood & Highland), Movie Star Homes, the Getty Museum and all the area's other famous attractions, with a travel store on site. The hostel has regularly scheduled free entertainment and educational programs – pub crawls, acting workshops, museum outings, poetry reading and music events, BBQ's and beach volleyball matches. Or rent a bike nearby and ride down the California beach trail to Venice, Marina Del Rey and beyond.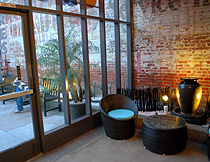 The Santa Monica Hostel is nine miles from LAX – the Los Angeles International Airport, served by City Blue Bus "C" Shuttle from the LAX Bus Center. Public transportation from Santa Monica to the rest of Los Angeles is by city bus, Westwood, Beverly Hills, West Hollywood and Hollywood are all reached on the Santa Monica Boulevard line, or Wilshire Blvd to Rodeo Drive, the LA County Art Museum, La Brea Tar Pits (see Tar Pits Page Museum) and downtown.(see L.A Live Downtown) - or go up to Hollywood and take the subway to downtown or Universal Studios, (the Metro subway line to Santa Monica won't be built for another 12 years).

What about the other hostel in Hollywood? Yep, near the "young Hollywood" club scene, in a former apartment building in the bit run-down center of the city, gated from the surrounding area of the Hollywood homeless and alcoholics, at a glance is not the prettiest, but a block from Hollywood Boulevard, and a bit more complicated to get to from the airports. But you can still smoke in Hollywood. © Bargain Travel West
Find best hotel and travel deals in Santa Monica on TripAdvisor
Web Info
Santa Monica Hostel
Santa Monica Tourism
These articles are copyrighted and the sole property of Bargain Travel West and WLEV, LLC. and may not be copied or reprinted without permission.
See these other articles on Bargain Travel West:
THE GEORGIAN HOTEL - SANTA MONICA