Travel Bargain destination in California
MONTEREY HISTORY WALK
California's Most Historic City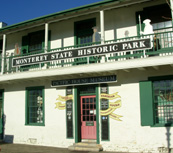 California was named for a golden mystery land that was originally thought to be an island. When Spanish explorer Vizcaino first followed the California coast looking for the water passage that would lead around the other side he spotted a natural port in the wide bay. Gaspar de Portola followed his vision and established the first Spanish military outpost at Monterey. Father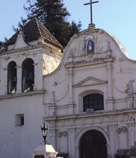 Junipero Serra established his original Mission San Carlos Borromeo in 1770 on the bay shore, the first of his string of missions along the El Camino Real (see Mission San Juan Bautista). The mission later moved to Carmel a few miles away, but the church's Royal Chapel now San Carlos Cathedral remains on Church Street, the first brick building in California and the oldest continuously functioning church in the state.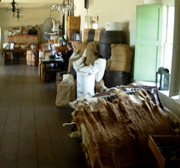 The Customs House, built in 1822 is the oldest surviving government building in the Western United States, erected to collect customs taxes on the goods shipping through the port at Monterey. Today the building a few steps from the Monterey Fisherman's Wharf remains much as it once was. Outside in the central square can be seen the platform levels where crates and sacks would wait for inspection and payment of taxes before shipping to destinations inland. It was at the Customs House that Commodore John Drake Sloat first raised the American flag, proclaiming the former Mexican territory as part of the United States. But Mexico wasn't quite ready to accept the proposition.
A few steps away, the Pacific House is the home of the State Historic Museum with displays of California and Monterey History. In 1849, during the height of the gold rush, Monterey's Colton Hall was the site of the California Constitutional Convention, leading to California's becoming a state in 1850. The Robert Lewis Stevenson House is so named for the author, famed for his nautical tales of pirates and island adventures, from his stay here in 1879 when the building was an inn and boarding house. The First Theater in California was built by an English sailor, Jack Swan as a saloon and adjoining accommodation rooms.

For ease of visiting all its historic sites, the City of Monterey has laid out the "Path of History", a trail of markers along the streets and sidewalks leading to all the historic buildings of old downtown Monterey (see History and Jazz on Monterey Bay). Starting at the Pacific House, leading through Portola Plaza to the San Carlos Cathedral and back. Guided tours can be arranged through the California State Park History Museum, call them at (831) 649-7118 for tour schedules. © Bargain Travel West
Find best hotel and vacation deals in Monterey on TripAdvisor
Web Info
Monterey Path of History
California State Parks
These articles are copyrighted and the sole property of Bargain Travel West and WLEV, LLC. and may not be copied or reprinted without permission.
See these other articles on Bargain Travel West:
VICTORIAN INN
Charm on Monterey's Cannery Row

COLUMBIA STATE PARK
Travel Gem of the Gold Rush

MURPHYS HISTORIC HOTEL
Presidents, Robber Barons and Highwaymen
BEARBUDDYS
Monterey Coastal Bear