Travel Bargain destination on the California Coast
VICTORIAN INN
Charm on Monterey's Cannery Row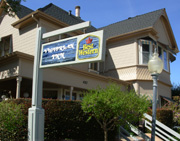 The fishermen are long gone from Monterey's Cannery Row, made famous by John Steinbeck's novel of the workaday struggles in the depression era when the sardines and mackerel were plentiful in Monterey Bay. Cannery Row is now an historic entertainment and tourist complex along the bay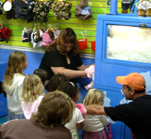 front with restaurants, entertainment night clubs, candy stores, one of the earliest indoor shopping malls on three floors in a former cannery storehouse with shops where children can watch their new plush animal being stuffed before their very eyes at the Beach Bear store, the Wax Museum with old histocric figures of ancient seafares,the Steinbeck Museum, and the most popular sight-seeing adventure, the Monterey Bay Aquarium (see Sea Life on Cannery Row).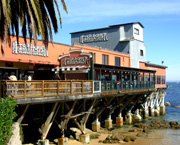 A few steps away from the heart of Cannery Row and three blocks from the Aquarium, the Best Western Victorian Inn is conveniently located for exploring Monterey. The centerpiece of the Victorian Inn is the main house built in 1907, a tranquil throwback to earlier days of the historic city. The lobby of the hotel is located in the house, but the rooms of the hotel are in a newer building next door (a one time apartment complex), which provides all the amenities of a modern hotel, but designed and decorated in the period style consistent with the historic Victorian house. All the rooms have marble fireplaces and many have private balconies or window seats.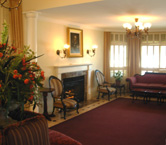 The rooms are a good size for families and for a more romantic pampered experience, the hotel offers a "Concierge" level of stay in rooms with whirlpool tubs, featherbeds, robes and turndown service. If more on a budget stay, with no whirlpool in the room, the Inn's courtyard has a hot tub Jacuzzi. In the afternoon, complimentary wine and cheese is offered in the Victorian house parlor. Aquarium tickets can be purchased in the lobby and pets are welcome with an extra charge.

The Victorian Inn is located closest to Cannery Row and the Monterey Bay Aquarium while Fisherman's Wharf and the Monterey State Historic Park area (see Monterey History Walk) is about a mile away, a short drive or shuttle ride. Or for the more energetic, stroll, jog or bike ride along the scenic walking trail along the Monterey Bay shore. © Bargain Travel West

Other Best Western Hotels in Monterey
Best Western Monterey Area
Find the best hotel and travel deals in Monterey on TripAdvisor

These articles are copyrighted and the sole property of Bargain Travel West and WLEV, LLC. and may not be copied or reprinted without permission.
See Also:

THE MONTEREY HOTEL
History and Jazz on Monterey Bay

SHORE CLIFF LODGE
Romantic Ocean View Hotel at Pismo Beach

SAN FRANCISCO'S FISHERMAN'S WHARF
Best things to do on the famous wharf by the Bay