Travel Bargain destination on the California Coast
WWII AIR MUSEUM - CAMARILLO
CAF Commemorative Air Force Flying Warbirds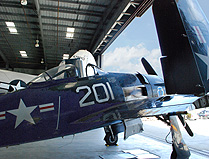 As warbird exhibits go, its not large, taking up a couple of hangars at the Camarillo Airport between the sprawl of Los Angeles and the Pacific coast, just off Highway 101 as it makes its run through the west valley to Oxnard and on to Santa Barbara, but the Southern California Wing CAF "Commemorative Air Force" WWII Aviation Museum is the very active home of war fighting aircraft enthusiasts, maintaining and rebuilding a growing on of flying craft from the 1940s. Most of the aircraft in Camarillo are not static museum pieces, but and regularly flying in air shows, with some under the painstaking care of restoration.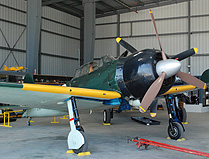 The Commemorative Air Force is a nationwide volunteer group dedicated to keeping alive the great aviation machines which won victories in the skies around the world between 1939 and 1945. The restored aircraft on display and in the workshop undergoing maintenance include Grumman "Bearcat" and "Hellcat" Navy Fighters, a North American "Mitchell" B-25 Bomber and "Texan" Trainer, a British star of the "Battle of Britain" Vickers Supermarine "Spitfire", very rare flying Japanese Mitsubishi "Zero", and the first aircraft of the collection a Curtis C-46 Commando Transport named "China Doll". Aside from the aircraft and the working restoration hangers a display of artifacts, photos, weapons and documents commemorate World War II as well as aviation combat in the Korean and Vietnam war theaters takes up a section of one of the hangers. Group guided tours can be arranged in advance.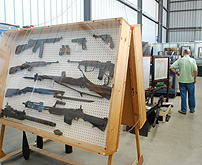 The CAF WWII Aviation Museum at Camarillo is open every day, except Mondays, from 10am to 4pm. Admission (donation) is $7.00 for adults; $4.00 for students 10-18; $3.00 for children 6-9; children under 6. Current members of the military are free. To see the volunteers working on the aircraft in the restoration hanger shops come on Tuesdays, Thursdays, and Saturdays. There is a gift shop for mementos and t-shirts. The Camarillo Airport is at the Las Posas exit from the 101, with the CAF hanger at the west end. © Bargain Travel West
Find the best hotel and travel deals in Camarillo on TripAdvisor
Web Info
CAF So Cal
These articles are copyrighted and the sole property of Bargain Travel West and WLEV, LLC. and may not be copied or reprinted without permission. Photos courtesy Oxnard Salsa Festival.
See these other articles on Bargain Travel West:
MARCH FIELD AIR MUSEUM - RIVERSIDE
CASTLE AIR FORCE BASE AIRCRAFT MUSEUM - MERCED
BATTLESHIP SOUTH DAKOTA MEMORIAL
USS IOWA BATTLESHIP MUSEUM – SAN PEDRO