Travel Bargain destination in California
PALM SPRINGS AIR MUSEUM
Historic Planes in the California Desert
Run out of money at the Indian Casino? Save a few dollars to visit the Palm Springs Air Museum. If you have an interest at all in flying, military jets, or WWII air power the Air Museum at the Palm Springs International Airport has a fine display of aircraft and other memorabilia, including an airworthy B17 Flying Fortress, Mustangs, Hellcat, Avenger, King Cobra, Thunderbolt and a wealth of others.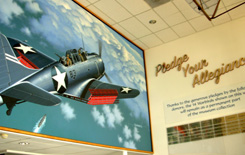 Historic automobiles and military vehicles compliment the air theme and static displays of modern jets are on guard in front. There are children's programs, flying demonstrations, and an extensive collection of aviation art and murals. And take a moment to ask one of the volunteer docents about his service and you're likely to get a fascinating personal view of WWII action as several of them have lived through this particular piece of American history. © Bargain Travel West
Find the best hotel and travel deals in Palm Springs on TripAdvisor
Web Info
Palm Springs Air Museum
These articles are copyrighted and the sole property of Bargain Travel West and WLEV, LLC. and may not be copied or reprinted without permission.
See these other articles on Bargain Travel West:
GEN. PATTON DESERT TANK WARFARE MUSEUM

ORANGE EMPIRE RAIL MUSEUM
WWII AIR MUSEUM - CAMARILLO
CAF Commemorative Air Force Restored Warbirds

CASTLE AIR MUSEUM
MARCH FIELD AIR MUSEUM

Military Europe

LUFTWAFFE MEMORIES