WEREWOLVES ATTACK COLLEGE IN CALIFORNIA FOOTHILLS
Student Killed after Rock Concert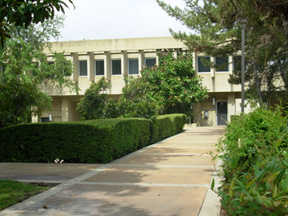 Crafton Hills College, a beautiful little-known tree dotted campus in Yucaipa on the edge of the San Bernardino mountains off Interstate 10 recently had sightings of werewolves on the campus and a missing student was reportedly killed in the hills nearby, although not enough of the body was left for positive identification. The mauling was reported by another student, claiming to be a friend of the missing boy, as an attack by werewolves. Police are investigating the incident with agencies of the National Forest Service.
This was following the arrival in the small California community of a rock & roll band reputedly from somewhere in Eastern Europe with the curious name of "Neowolf" on their west coast "Full Moon Tour". Local authorities could not - or would not say whether they could make any connection between the band's darkly gothic werewolf themed image and the missing student.

"We're a good old all-American God-fearing community here and don't get much call to investigate reports of werewolves," said one local police official who requested not to be identified. "Coyotes and mountain lions will attack a hiker from time to time, sure, but we just don't welcome the spawn of evil in our city." Despite refusal by officials to acknowledge an infestation of a satanic shape-shifter man-eating animal pack, sales of plants of the genus Aconitum Napellus (otherwise known as Wolfsbane) have skyrocketed at local nurseries and Walmart Stores in the vicinity have been receiving inquiries whether they carry silver bullets in 9mm or 38 caliber. Walmart executives would not comment further. A neither will we.

These articles are copyrighted and the sole property of Bargain Travel West and WLEV, LLC. and may not be copied or reprinted without permission.
See these other articles on Bargain Travel West:
Destinations California:

JUST US GHOSTS
Sierra Sky Ranch Southern Sierra Nevada
ORANGE EMPIRE RAIL MUSEUM
Living history for railroad buff
MESOTHELIOMA - ASBESTOS LIABILITY
Abandoned Mines and Movie Effects
FRANKENSTEIN DIARIES: ROMANTICS
Inspiration for Mary Shelley's Frankenstein