Travel Bargain destination in the California Desert
ORANGE EMPIRE RAIL MUSEUM
Living History for Railroad Buffs - Perris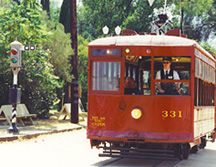 Los Angeles, the land of freeways used to be home to an extensive rail transit system which ran from downtown to Santa Monica and Long Beach affectionately called The Red Cars". With the gentile assistance of Standard Oil the system was fazed out and paved over. L.A.'s transit system is making a slow, very expensive come-back, but where did the Red Cars go? To the desert! The Orange Empire Railway Museum near Perris, California, off the 215 Freeway between Riverside and San Diego is a living, breathing, operating rail town. The classic Pacific Electric trolleys which used to trundle down Grand Ave. now travel the rails through this former town caught in history. The arms of stop signals ding as the trolley comes through. Diesel and a stream locomotive offer rides out of town on the 1.5 mile standard gauge mainline out along the freeway access road. Ride in the conductor's caboose seat watching over the switches and passenger gondolas. Operated by and some of the equipment donated by railroad enthusiasts, the museum is a work of passion for those who run it and the village itself a mirror on a lost era.



The museum railway operates every weekend and on most major holidays from 11 a.m. to 5 p.m., and also on weekdays for charters and other special events. The Museum grounds are open every day from 9 a.m. to 5 p.m. with the exception of Thanksgiving and Christmas. Admission and parking for the museum is free and you can walk through acres of warehouses of old beautiful relics of the California transportation past. To ride the museum train takes a ticket. An all day pass costs $10 for adults, $8 for older children and kids under 5 ride free. © Bargain Travel West
Find best hotel deals, compare prices in Perris on TripAdvisor
Web Info
Orange Empire Railway Museum
These articles are copyrighted and the sole property of Bargain Travel West and WLEV, LLC. and may not be copied or reprinted without permission.
See these other articles on Bargain Travel West:
RIVERSIDE'S MISSION INN
Historic Hotel for Romantic Weekend Getaway or just Brunch
PIONEERTOWN
Western Movie History of Yucca Valley
JAMESTOWN MOVIE STEAM TRAIN
California Gold Country Movie History
SAN FRANCISCO CABLE CAR MUSEUM
Historic Cable Car Powerhouse