Travel Bargain Destination in Nevada
HOT AUGUST NIGHTS IN RENO
Classic Car Nostalgia in Northern Nevada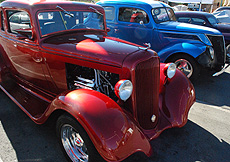 Heard from a colorful old character on the streets of Reno, Nevada, "Hey, I had one of them '58 Fords! Someone's prob'ly bought the dang thing and customised it by now!" I know the sentiment. I had a '65 Mustang once upon a time which has probably been restored or customized, appearing at the occasional weekend car show of American made steel, where automoble enthusiasts lovingly display their restored or modified vintage vehicles for a prize trophy and the pleasure of those fascinated with the seven seal coat custom paint and bright polished chrome header horsepower under the hood. Reno has more than its share of colorful old characters and in sunny hot August every year, more than its share of colorful old classic cars. For 8 days, from Sunday to Sunday the first week of August, the "Hot August Nights" celebration of American car culture takes over "The World's Biggest Little City", turning the casino town into the world's biggest classic customised car show, if not the world's biggest used car lot.

Hot August Nights for 2010 - Aug. 1-8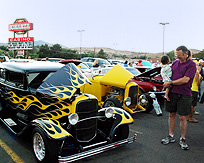 "Hot August Nights" is a remarkable phenomenon, with over 300 individual events of car competitions, cruises, parties held in casino parking lots and thorugh blocked off streets of Reno and Sparks, which have virtually grown together into one nearly indistiguishable metropole. Some recent controversy arose over whether with the event's growing popularity and scale the organizers would move it to another metropolitan city, with a weekend off-shoot appearing in Long Beach in Southern California, but it is hard to imagine any other city being able to stand a full week of being taken over. And nearly impossible for the amount and variety of events without the support of a city of casinos adding promotional support. Its more likely if the "Hot August Nights" appear elsewhere, it will be more in the nature of franchise than departure. The celebratory car events have grown so that now they begin in South Shore Lake Tahoe for a weekend kick-off before the main events in Reno and Sparks.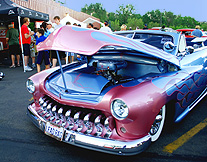 "Hot August Nights" was born in Reno at a hugely successful 50's Rock n' Roll concert and party at the Reno Convention Center on the 1st of August, 1986, when nostalgia for the glories of the recalled youth of the "baby boomers" had reach a level in need of an outlet and it seemed that an annual event of cars and music of the 1950s and 60s would be just the trick and a perfect fit to attract tourists to Reno and Sparks during the heated doldrums of late summer, and raise money for local charities. It worked and the event has grown from one night of a cruise down Virginia Street to the massive multi-venure extravaganza it is today.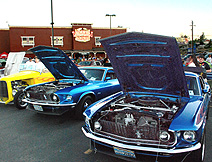 With a schedule of events of "Show-n-Shines", Sock-Hops, Car Auctions, Swap Meets, and Cruise Parades too numerous to list (check out the Hot August Night website for a downloadable full schedule) and held all over town, from the Bonanza on the edge of town to the neon Peppermill on South Virginia Street, Reno's newest resort hotel the Atlantis, the Eldorado and Silver Legacy downtown, and name entertainment stage shows are held at the Victorian Square at John Ascuaga's Nugget Hotel and Casino in Sparks and the Grand Sierra Resort, if visiting Reno during the week of Hot August Nights, where participants are spectators as well, with the cars seen everywhere in casino hotel parking lots, cruising down the one horse main street of silver rush historic Virginia City, on highway overpasses.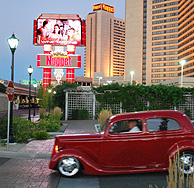 If flying into Reno to attend the Hot August Nights events, most major hotels provide shuttles from the airport. Rental cars can get you from one place to another in the cities, but if you are not planning on driving to other locations like Lake Tahoe or Virginia City, and plan on staying in Reno/Sparks, it might be best travel by taxi, or local Citifare bus as general parking at the event locations venues can be limited. There is a bus terminal at Victorian Square at the Nugget so almost any community bus will get you to there. To participate with your own shiny classic, whether customised, restored, or just beloved, you need to register in advance. © Bargain Travel West
Find the best hotel deals, compare prices in Reno on TripAdvisor
Web Info
Hot August Nights

These articles are copyrighted and the sole property of Bargain Travel West and WLEV, LLC. and may not be copied or reprinted without permission. Some photos courtesy Great Reno Balloon Race.
See these other articles on Bargain Travel West:
LEGENDS OUTLET AT SPARKS MARINA