LEGENDS OUTLET AT SPARKS MARINA
Shopping Mall Wonder of Washoe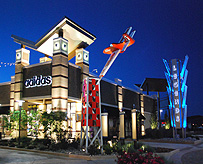 So, maybe you've seen that recent TV commercial for the latest smart phone device with the family on a vacation to the great American outdoors and the kid wants to find an ice cream shop and the mom is looking for the nearest outlet shopping mall. If they happen to be on vacation in Northern Nevada, perhaps the wonder-whiz geo-location-mapper thing will take them to the new Legends Outlet at Sparks Marina. It had been awhile since I'd been in Reno and its little brother neighbor, Sparks, and the only lake I was aware of was the big deep one named Lake Tahoe, a jaunt over the hill. Where Las Vegas has the audacity to make its own lakes to surround with expensive houses, a few years ago apparently a quarry pit to the east of Sparks filled with water and rather than drain it, why not a marina and an outlet mall.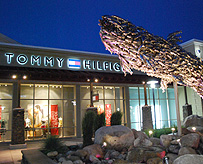 Where some on vacation envision biking in mountain canyons or camouflage gear in a duck blind with a Remington 12 Gauge as heaven on earth, others seek a museum of historic import, still others a meal and amusement, and some just want to shop. At the Legends Outlet at Sparks Marina, perhaps all can be found in one place, at least for an afternoon. As you'd expect in an outlet mall, high end brands like Tommy Hilfiger, Michael Kors, Saks Fifth Avenue, Guess and the Gap are represented, offering first line designer wear at outlet discounts, surrounded by the themes of Reno and Washoe, from flying trout statuary to miners, explorers and Native Americans.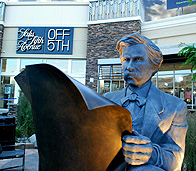 A bronze figure of Mark Twain, who began his career as a reporter in the nearby mining town of Virginia City (see Mark Twain Museum), watches over the central plaza's rocky water fountain in the midst of the stores, reading his paper, the Territorial Enterprise, while children play in the trickling waters of the rock fountain. The famed Reno Air Races which take place every September a few miles away are prominently represented in the motifs of racing pylons buzzed by symbolic Mustangs (see Reno Air Races). Satisfy the hungries at restaurants from Fuddruckers and Olive Garden to the rock and country music themed Cadillac Ranch, with music stars and collector guitars gazing from walls, complete with mechanical bull ride to feed and entertain, but undoubtedly the headline attraction at Legends is Scheels.
Scheels All Sports Store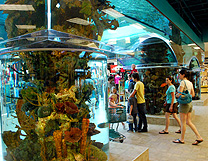 Scheels has been outfitting the outdoorsman since 1902 and the days of Theodore Roosevelt and his wilderness jaunts and hunting trips. To call the Scheels in Reno-Sparks a sporting goods store, while by definition certainly true, far misses the target. Scheels is billed as the World's Largest All Sports store, and indeed a wonder. Big enough to enfold a carnival Ferris wheel under its glass roof, as well as a Ferris Wheel Museum, with room left over for hanging bush airplanes
and a rocky mountain, complete with woodland animals, though of the taxidermy variety. Why go to Monterey or San Francisco for fish and Madame Tussauds. The Scheels store is entered passing underneath an massive aquarium tank of exotic fish swimming overhead and among the colorful coral. Along the balcony overlooking the Ferris wheel, animatronic Presidents, from Jefferson and Madison to Kennedy and Reagan, recite their favorite speeches when anyone approaches near, in a sort of stations of Democracy exhibit. "Ask not what your country can do for you, but what size you'd like that in?"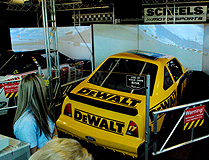 In the amusement center, climb into a NASCAR racing car machine and take a virtual spin around Daytona. But while all the extras are both entertaining, intentionally and otherwise, the point of Scheels is sporting goods, and you'll find it in all the abundance and variety imaginable, four floors in a cathedral of outdoor and indoor sporting activities. Hit a golf ball in the virtual driver academy, get the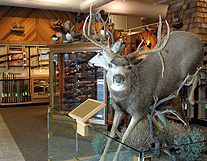 perfect bowling ball fit for the next Reno tournament, outfit yourself for hunting & fishing, football & baseball, fit footgear for hiking, running, skating, skiing, and whatever else you can imagine. Have you seen camouflage lingerie? Is that for attracting the prey or for après hunt celebration? Well, you can get it at Scheels. Who knows what Mark Twain, the sharp penned humorist whose life in the gold rush Sierras had accustomed him to all manner of mercantile oddity and curios exhibition, might have written of this particular wonder of the West.
The Legends at Sparks Marina outlet mall is on Scheels Drive just east of Reno on I80 at Sparks Boulevard across from the Wild Island Family Adventure water park. The first phase of Legends is complete, while a second phase expansion is underway with theaters and even more wonders in store for the future. For a list of current stores, restaurants and events, check the website. © Bargain Travel West
Find the best hotel deals, compare prices in Reno on TripAdvisor
Web Info
Legends at Sparks

These articles are copyrighted and the sole property of Bargain Travel West and WLEV, LLC. and may not be copied or reprinted without permission. Some photos courtesy Great Reno Balloon Race.
See these other articles on Bargain Travel West:
HOT AUGUST NIGHTS - CLASSIC CARS IN RENO
ELDORADO HOTEL AND CASINO – RENO

KIT CARSON TRAIL - CARSON CITY