Travel Bargain destination in California
SIERRA SKY RANCH - OAKHURST
Historic Ranch Resort Inn of Sierra Mountains
"Just Us Ghosts"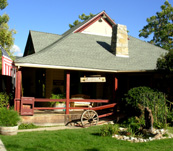 You're awakened from a deep warm slumber to find two young children staring at you hopefully from the end of the bed. It occurs to you that you don't have kids. You think for a moment that people in hotels should keep better watch over their children. Then you look again and they are gone! You walk down the hallway and hear a woman weeping in a room you know to be empty. You look out the window to see a lanky cowboy ranch hand chopping wood. He wipes his brow and looks at you, then vanishes. A hand seems to stroke your hair, you turn to ask them to stop and no-one is there.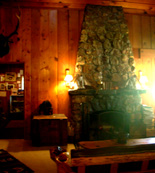 These are all experience claimed to be had by guests or employees at the Sierra Sky Ranch Resort in Oakhurst, California, about 30 minutes outside Yosemite National Park's southern entrance. There are many mountain lodges in mountain settings pretending at rugged wood beamed authenticity, but the Sierra Sky Ranch is the real thing, over 150 years old. This very quaint, rustic charm and unique mountain hotel started as the ranch house for California's largest cattle ranch in the 1870's and still retains its ranch house feeling, including the large stone fireplace with a huge oak log burning in the hearth, stones blackened by the years, surrounded by massive horns.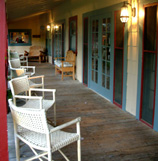 The original ranchhouse itself was built in 1900 with the rooms wing of the hotel added as convalescence home for tuburcular patients in the 1930s. It also served as an army hospital in WWII and was turned into a mountain resort hotel in 1946. The main older wing has 18 rooms with french doors opening onto the common verandah, one suite has its own fireplace. The staff will tell you which rooms have had reported spectral activity. If the main wing of the hotel is full you can stay in "the bunk house" in the rear, with larger suites. The Sierra Sky Ranch hotel was a popular spot for Hollywood to visit on the road to Yosemite starting in the 50's and has hosted movie star guests like John Wayne and Marilyn Monroe. The hotel has been also been used as a Hollywood movie location and its reported spookings have been featured on the Discovery Channel. The cheerful staff of drawn from the nearby mountain community will gladly regale you with their own tales.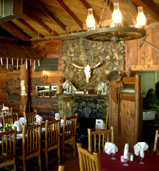 The Branding Iron Steakhouse and Saloon restaurant, a local favorite, is warm and inviting with it's own fireplace, rough hewn wood walls and beam rafters, with a full bar and ranch style steakhouse food from hearty breakfasts to quiet elegant dinner cuisine. Live bands sometimes provide entertainment on the weekends. The ranch is a popular place for area mountain weddings and the Yosemite Sugar Pine steam logger railroad is ten minutes up Highway 41. A unique stop to consider if you're planning a trip to Yosemite National Park or Bass Lake 10 minutes away.

Arriving from the road, ten minutes east of Oakhurst on state highway 41 from Fresno toward Yosemite, the property may remind a little bit of the "Bates Motel" from Hitchcock's "Psycho", but inside has the comfortable feeling of visiting someone's house. Haunted House? Maybe. Just don't bother them and they won't bother you. © Bargain Travel West

Read review of Sierra Sky Ranch on TripAdvisor
Web Info
Sierra Sky Ranch
These articles are copyrighted and the sole property of Bargain Travel West and WLPV, LLC. and may not be copied or reprinted without permission.

See also:
EASY HIKING YOSEMITE NATIONAL PARK
Guided Day Hike Adventures

MURPHYS HISTORIC HOTEL
Presidents, Robber Barons and Highwaymen
CHATEAU SUREAU
Luxury in Sierra Foothils
CALIFORNIA MINING & MINERAL MUSEUM
Gold Nugget in Mariposa