Travel Bargain destination in California Gold Country
EASY HIKING YOSEMITE NATIONAL PARK
Guided Day Hike Adventures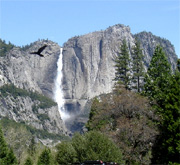 A trip to Yosemite National Park, whether staying in a cabin or tent for a week or just a day trip into the park from one of the nearby Sierra towns like Groveland (see Gold Rush Hotels of Groveland), Yosemite offers a range of hiking and sightseeing adventures for all ages and all levels of skill, from languid strolls under the clear night sky filled with stars and stories around the family campfire to downhill skiing and extreme mountain climbing. Yosemite even has its own golf course and ice skating rink, but probably much of a visit to America's premiere national park will be taken on foot. But you don't have to be an experienced back country mountaineer to explore one of the wonders of the world. The park service offers a number of guided hikes for the casual park visitor.
The park promoted by naturalist John Muir and created by that ultimate outdoorsman President Teddy Roosevelt (see Hotel Jeffery) provides the most phenomenal backdrops for hiking and exploration in the world. Day hikes range from a few hours to full day trips to the top of Half Dome, with its breathtaking view of the Yosemite Valley. Sign up for group backpacking trips, or design a custom backpacking trip just for your group. If carrying a heavy pack is not for you, but you want to enjoy the high Yosemite back-country, High Sierra Camps provide spacious tents, with meals prepared the Yosemite staff, but reserve well in advance.
Learn to climb a rock or explore Yosemite hiking trails with a professional Yosemite Mountaineering School guide. Hiking options range from short, level hikes on the Valley Floor to challenging all-day ascents along Yosemite Valley's magnificent rim.
Discovery Hikes
Relaxed-paced Discover Yosemite Hikes last about three hours and cover about 3 to 4 miles. Stop to smell the flowers, watch rock climbers, take pictures and just have fun. Small group sizes allows lots of flexibility to make the hike fit your interests.

Cliff and Climbing Hikes
The majestic cliffs of Yosemite attract rock climbers from around the world. Take a hike through the valley and learn about the geology that makes Yosemite's cliffs so special for climbers, and the colorful people that spend their time exploring the steep faces. You don't actually do any climbing on his hike.

Adventure Hike
A 6 hour hike adventure on the most popular trails with a local guide to tell you about the geology and history of the places you are hiking through, sharing their knowledge and love of the park.

Valley Floor Loop Trail
An easy scenic hike on fairly flat terrain provides information on Yosemite, geology, flora, fauna and Native American history of the park.

Old Inspiration Point
A 3 mile hike starting at the Wawona Tunnel parking area climbs uphill to Old Inspiration Point for the magnificent valley view.

Day Long Hikes
Easy to moderate difficulty can be taken along the Pohono Trail, following the south valley rim, the Panorama Trail from Glacier Point past Vernal Falls and the
Reservations
Many of the hikes can be joined by just showing up, but to assure a slot, reserve space for group and custom hikes by calling (209) 372-8344 or ask at any of the Tour & Activity Desks in Yosemite Valley. Additional information is available in the Yosemite Today guide available at all Park entrance gates or online at Yosemite Park Reservations.

What To Take With You
The altitude of the Yosemite Valley floor is only about 3,000 feet, but the thinner mountain air can sap water rapidly and the sun can burn you a bright lobster red and the weather can change at the drop of a barometer bar, so take a few essential items, at least 2 liters of water (designer or just dip your canteen in a stream), some snacks or a light lunch, hat, sunglasses, sunscreen, extra clothes for dressing in layers and a small backpack to keep it all in. And don't forget your camera. © Bargain Travel West
Find best hotel and vacation deals in Yosemite Park on TripAdvisor
Web Info
Yosemite National Park

These articles are copyrighted and the sole property of Bargain Travel West and WLEV, LLC. and may not be copied or reprinted without permission.
See these other travel articles on Bargain Travel West:
A PASS FOR ALL SEASONS
U.S. Federal Land and National Park Use Passes
OAKDALE - GOURMET COWBOY COUNTRY
Barbeque and Romance - Dinner Train, Murder Mystery and Rodeo

COVERED WOODEN BRIDGE OF KNIGHTS FERRY
River Rafting Gold Rush River Historic Site