Travel Bargain destination in California
GUBLER ORCHIDS TOUR
Orchid Growing the Yucca Valley Desert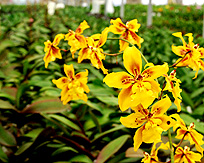 Do Orchids grow in the desert? Well, they do if you're one of the largest Orchid growers in the United States. Gubler Orchids, which supplies growing Orchid plants to stores, retailers and florists moved to the high desert in Landers, California in 1975 for the clean air, sunshine and pure water. Ok, why does Landers sound familiar? Yes, that's where the 1992 Landers Earthquake was centered. Just around the corner from the greenhouses of Gubler Orchids you can find a spot where a roadway changed directions by several feet. The Gubler Orchid growing center is also about 500 yards from the mystical technology metal geometric dome edifice of the Integratron, built by aerospace engineer and UFO contactee George Van Tassel over the confluence of underground aquifers reportedly by its builder to be constructed according to alien technology. Whether the alien presence has any effect on the growth of orchids, I can't say.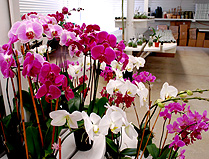 Orchids, officially the Orchidaceae family of monocots in the order of Asparagales, are the second largest family of growing plants, apparently twice the number of species than birds, But what matters at Gubler Orchids is the growing of the beautiful blossomed varieties of flower more accustomed to the humid swamps of the southeast rather than dry California desert and they only grow about 5,000 different Orchid hybrids. While principally a commercial grower, Gubler Orchids offers a free tour for visitors to the greenhouse facility about 20 minutes from Yucca Valley and Joshua Tree National Park. Tours average 30 to 45 minutes, guided by one of the very enthusiastic growers who will impart all you may want to know about Orchids, from the seeding process to the four year growing care before an Orchid plant will produce a bloom.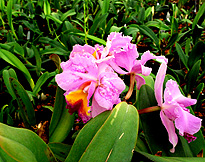 The visitors showroom at the Gubler Orchids greenhouse always keeps dozens of award winning Orchid plants on display in glorious visions of color to admire and to purchase, with a wide selection of Orchid's available - Cattleya, Dendrobium, Phalaenopsis, Vanda and Zygopetalum, just a few.. They sell a complete line of Orchid growing products, fertilizer, pots and potting mix. The gift shop offers t-shirts, post cards and calendars. Before you depart learn tips for keeping and growing your own. The Gubler Orchid center is open Monday to Saturday 10am to 3:30pm.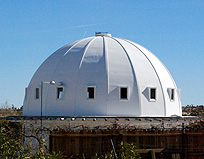 Gubler Orchids is easy to find - or at least as easy as defining and describing an Orchid. From Palm Springs and the I-10 take Highway 62 north to Old Woman Springs Road (Highway 247), north for 10 miles to Reche Road right, the two miles to Belfield Blvd., then left. If you come to the Integratron or fall into the earthquake crevass, you've gone too far. © Bargain Travel West
Gubler Orchids
2200 Belfield Blvd.
Landers, CA 92285
1-800-482-5377
Find best hotel and vacation deals in Yucca Valley on TripAdvisor
These articles are copyrighted and the sole property of Bargain Travel West and WLEV, LLC. and may not be copied or reprinted without permission.
See these other articles on Bargain Travel West:
PIONEERTOWN - OLD MOVIE MEMORIES IN YUCCA VALLEY
DESERT CHRIST PARK - YUCCA VALLEY
JOSHUA TREE NATIONAL PARK – KEYS RANCH TOUR
PATTON DESERT TANK WARFARE MUSEUM