Travel Bargain destination in the California
RIVERSIDE'S MISSION INN
Historic Hotel for Romantic Weekend Getaway or just Brunch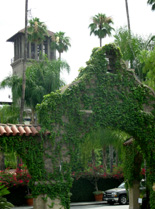 Riverside, California probably does not place on anyone's top ten vacation destinations, at least not today, although it probably has more RV's for sale per square foot than any other city in the world. But at one time, Riverside was a major resort destination of the east coast and international wealthy class seeking the warm sun and investment opportunities provided by oranges and open land. At the turn of the last century, Riverside was where the California citrus industry began, and became one of the hottest real estate speculation spots, advertised on fruit crates by the railroad barons speculating on the state's population growth potential and all those rail passengers heading west.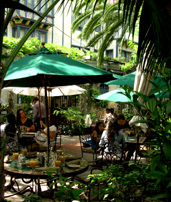 The resort hotel to stay in was the Mission Inn. Taking up an entire city block ofdowntown Riverside, the Mission Inn was first built in 1876 as an adobe boarding house, but expanded in 1902 as a hotel. A year later President Theodore Roosevelt came to California on a tour of industry and natural wilderness sights like Yosemite (see also Jeffery Hotel). While staying at the Mission Inn, he planted two ceremonial parent navel orange trees in the courtyard. Several other presidents have stayed sinceas evidenced by the portraits in the President's Lounge. The hotel grew in the teens and 20's with more wings, art gallerys, a rotunda with the Flyers Wall commemorating California's pioneers of aviation, but fell into decline in the 30's.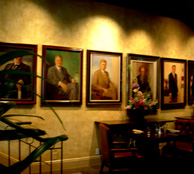 Today, the Mission Inn is a remarkable example of early California's architectural and historic heritage. The hotel is a perfect spot for a weekend romantic getaway for two, or the family, with its mission style architecture, rich interior, tree garden and promenade "paseos". It could also be a unique stop-over for visitors to the Inland Empire or international air travelers flying into Ontario Airport as an alternative to LAX. On the weekends, The Mission Inn puts on one of the most sumptuous brunches to be found in a surrounding of 1900's grand luxury style. Riverside is about an hour and a half drive east from Los Angeles, but 20 minutes from Ontario. The Mission Inn offers getaway travel packages, weddings, honeymoons and special events.
And for those interested in citrus history or aviation, the California Citrus Museum dedicated to the state's first major growth industry is located in Riverside and March Air Reserve base is home to the March Aviation Museum (see March Field Air Museum) with a remarkable collection of jet aircraft on display. The Orange Railway Museum (see Orange Empire Rail Museum) is about 25 minutes from downtown Riverside near the sky-diving mecca of Perris. © Bargain Travel West
Read Reviews, find the best deal at The Mission Inn Hotel and Spa

These articles are copyrighted and the sole property of Bargain Travel West and WLEV, LLC. and may not be copied or reprinted without permission.
See these other articles on Bargain Travel West:
Destinations California:

VACATION TO CALIFORNIA ON I-10
Like Patton Took Polermo - Desert Tank Warfare Museum

THE MONTEREY HOTEL
History and Jazz on Monterey Bay

MISSION SAN JUAN BAUTISTA
One of the best along the El Camino Real
PALM SPRINGS AERIAL TRAMWAY
Rotating Cable Ride to San Jacinto Mountain
HAMBURG PORT OF IMMIGRANT DREAMS
Ballin-Stadt Emigration Museum Hamburg