Travel Bargain destination in the California Desert

GEORGE PATTON TANK WARFARE MUSEUM
Patton's Desert Training Canter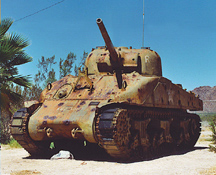 So, you decided to drive to California for that Disneyland vacation by the beach or maybe you're just coming to get famous in Hollywood. Driving forever across the vast nowhere of the desert on Interstate 10, Palm Springs just over the rise of Chiriacho Summit, you notice a small sign demarking the Patton Museum ahead. Well, what the heck, there's a little home cooking restaurant, so why not stop and check it out.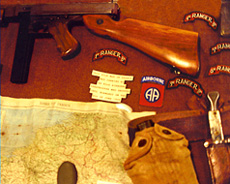 The George Patton Memorial Tank Warfare museum is about 45 minutes east of Palm Springs on I-10. This is where the too-plainspoken for his own good General Patton trained his 7th Army armored corps before setting off to North Africa, and ultimately rolling all the way to the Rhine River. Even though Patton who was only there for four months in 1942 as his Desert Training Center, following WWII the small base served as a tank training facility for many years. Now it is a museum established by the Bureau of Land Managemant with various examples of U.S. tanks through a series of wars, parked in the desert sun, and exhibits of WWII tank warfare and other memorabilia indoors in the air conditioning. There is also a large scale topographical map of the Mohave Desert region. So, if you're a military history fan, desert geology wonk or just need a meal break and a pit stop in the dusty desert on your travel west, you'll find this a pretty unique little spot to visit. The modest admission is a small price to pay for freedom. © Bargain Travel West
Find the best hotel and travel deals in Palm Springs on TripAdvisor

General George S. Patton Memorial Museum
Chiriaco Summit, CA 92201
760-227-3483
Open daily 9:00 am to 5:00 pm


These articles are copyrighted and the sole property of Bargain Travel West and WLEV, LLC. and may not be copied or reprinted without permission.
See these other articles on Bargain Travel West:
Destinations California:
GEN. PATTON CHURCH AND HOUSE
General George S. Patton Memorial Window San Gabriel

RIVERSIDE'S MISSION INN

ORANGE EMPIRE RAIL MUSEUM

BATTLE OF THE BULGE WWII BELGIUM
GENERAL PATTON GRAVESITE LUXEMBOURG
PATTON'S CAR WRECK AND DEATH MYSTERY