Travel Bargain Destination in Illinois
FRANK LLOYD WRIGHT - LAURENT HOUSE - ROCKFORD
Wright Designed House Opens to Public in Illinois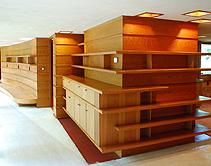 The newest Frank Lloyd Wright designed house and museum has been opened for public visits. The Laurent House in Rockford, Illinois opened June 6, 2014, two days before what would have been the famous architect's 147th Birthday. The single story, one level home in the wooded outskirts of Rockford about an hour from Chicago, commissioned by Kenneth and Phyllis Laurent in 1948 is considered by Wright enthusiasts as one of the top 38 best designs of his career, and the only building designed by the famously picky and prickly architect for someone with a disability. Kenneth Laurent was a wheel-chair bound World War II veteran who contacted Wright after being prodded by his wife, to ask the architect, then at the height of his fame and career, if he would to design a home to meet his unique needs. Wright was enthused by the new challenge.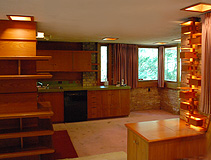 The Laurent House is especially unique among Wright designs that it has been continually lived in by the original owners and contains the original furniture designed for the home by the architect along with some personal items of the Laurents, making it a complete and holistic example of the architect's Usonian house concept and a complete work of art. Making use of brick, wood and other natural material of simple construction design on one floor, on concrete slabs with piping for radiant heat with carports instead of garages, Wright's Usonian (a word he coined from people of the US) concept of affordable houses in the depression influenced suburban house construction for decades, and the Laurent House is perfect example. With Lloyd Wright's personally designed interior with the wooden cabinetry seemingly infused into the brick walls, the design feels both of its time and still timeless. He created a singular house that was both beautiful and functional for its disabled owner, years ahead of its time, featuring a hemi-circular solar facing footprint, a patio, slat windows, a fishpond and Wrights signature connection between the house and it natural landscape.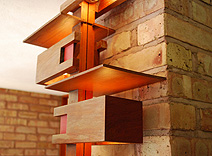 When the Laurents were in their 90s, no longer unable to stay in their home, the house was acquired by the Laurent House Foundation in 2012, with a million dollars raised from contributions from the Rockford community in an effort to save a local landmark treasure and a matching half-million dollars from the state of Illinois. The restoration took 2 years to complete, guided by architect John Eifler. The house is now also a museum with a collection of 29 letters and documents from 1948 to 1954 which follow the continuing relationship between Frank Lloyd Wright, the Laurents and the architect's Taliesin Fellowship.
Touring the Laurent House and Museum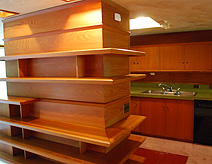 The Laurent House and Museum will be open for public tours beginning with the first and last weekend of every month. Additional tours will be added according to demand. Tours to the house will depart from the Midway Village Museum (see Rockford Midway Village) at 11 am, 1 pm, and 3 pm with a cost of $15 per person. Advanced tickets are required. The Laurent House recommended for children over 8 years. Group tours at a minimum of 4 to a group are available by reservation. Visitors with disabilities can arrange to park and arrive directly at the Laurent House for tours and events. © Bargain Travel West
Find the best travel and hotel deals in Illinois on Trip Advisor
Web
Laurent House
These articles are copyrighted and the sole property of Bargain Travel West and WLEV, LLC. and may not be copied or reprinted without permission.
See these other articles on Bargain Travel West:
TINKER SWISS COTTAGE MUSEUM - ROCKFORD
DONLEYS WILD WEST TOWN - UNION

ANDERSON JAPANESE GARDENS