Travel Bargain Destination in Illinois
MIDWAY VILLAGE MUSEUM – ROCKFORD
Victorian Era Heritage Town of Northern Illinois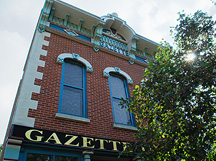 The heritage village has become a popular way to explore our common past, a way to visit and explore days gone by. Walt Disney created one for commerce in his amusement park in the 1960s and in the 1970s, as cities were trying to recover from urban blight, the idea of restoring old buildings, or even lifting them off their foundations and moving to the piece of vacant land to create an old time town became the rage. When settlers spread west from Chicago through Northern Illinois the crossing of the Rock River formed the stopping point for many heading to the plains and prairies. The Midway Village Museum is Rockford's heritage town, featuring a collection of 26 period buildings, gathered together on 137 acres of tree grown campus in the form of a late 19th Century town with artifacts of culture and daily life dating back to the founding of Rockford in 1830.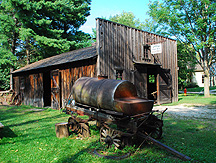 Beginning In 1968, the Swedish, Harlem and Rockford Historical Societies joined together to create a heritage village on land donated by the Severin Family for the purpose of collecting, preserving and interpreting the history of the Rockford area. The campus began to take shape in 1972, with buildings moved into place. The original Museum Center opened in 1974 and additional galleries were added in 1988, including The Old Doll's House Museum and the Aviation Gallery.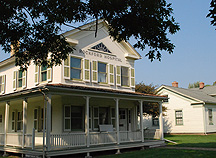 At the heart of the Midway Village Museum is the "Victorian Village" of historic buildings, including a General Store, Police Station, Schoolhouse, Doctors Office, Barber Shop, Blacksmith and Bank, among others, along with beautiful 19th century gardens depicting life in Northern Illinois from 1890 to 1910. In the park beyond the main street are a collection of prairie Victorian era houses, spread around a "village green", landscaped with flowers around the well-trod wooden porches. Inside are the artifacts and furnishing of a life before electricity, and perhaps most distinctive in the design of the era was the Victorian Parlor with a separate doorway entrance specifically built to allow easy access for a coffin to be removed, as a hard life often brought an early end, and possibility of death in a family was ever present.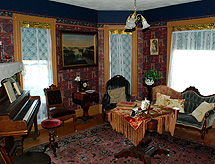 While the museum village is open year round, it is from May to August that the old town comes alive with interpreters in period costume to populate the buildings, and offer guided tours. The Museum Center at the village highlights local history through a collection of exhibits offered to explore the "Queen City of the Prairies" and "Rockford's Industrial Past", with a special look at Rockford's indigenous "Sock Monkey" the doll created from left over sock weaving fabric from a local mill.

Visiting the Midway Village Museum

Opening hours for the Museum Center, Mill House, Old Dolls' House and Museum Store are Tuesday to Friday 10 am to 4 pm, Saturday and Sunday 10:30 am to 4 pm from May to August. From September to April the museum is open by appointment. Admission is $8 Adults: $5 Children 3 to 17. There are a number of free/donation days throughout the year. There is a restaurant located on the grounds. © Bargain Travel West

Find the best travel and hotel deals in Illinois on Trip Advisor

These articles are copyrighted and the sole property of Bargain Travel West and WLEV, LLC. and may not be copied or reprinted without permission.

See these other articles on Bargain Travel West:

TINKER SWISS COTTAGE MUSEUM - ROCKFORD

DONLEYS WILD WEST TOWN - UNION

ANDERSON JAPANESE GARDENS

FRANK LLOYD WRIGHT LAURENT HOUSE