Travel Bargain destination in California
MARIPOSA HOTEL INN
Historic Town Hotel on the Way to Yosemite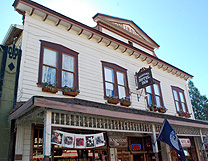 Mariposa is quaint holdover from the California Gold Rush of the 1850s. A classic nearly one street town of shops and historic buildings along the old "49er Highway", one of the towns which grew from the southern mines, flourishing after the first strikes farther north. Mariposa's past is rife with legends from the notorious California bandito Joaquin Murrieta to the John C. Fremont. Today, Mariposa is mostly known as a stop along the Highway 140 entrance into Yosemite National Park. There a few hotels and motels in Mariposa for a stopover to the park, or to explore the pleasures of the nearby Merced River, but a new historic town inn hotel has opened in Mariposa offering a bit of the color of the old west.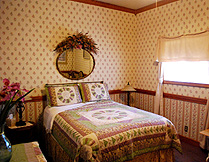 The Mariposa Hotel Inn is only six rooms on the upper floor of the historic store-hotel building built in 1901 in the center of Mariposa's main street. The rooms are beautifully furnished in the style fitting the feeling of a historic town hotel of the turn of the century with all the contemporary amenities one expects of a mountain bed & breakfast style lodging. The tea garden deck veranda out the back looks over the pine covered hills along Mariposa Creek, catching the rising sun in the morning and the setting sun in the evenings. The hotel is not a B&B, but morning spiced cider and biscotti are served on the deck. The shops of Mariposa from antiques to hand crafts are steps out the door, with restaurants a bit further. The hotel, up the stairway from the street entrance above the shops below has limited common areas other than the back deck, but a homey feeling. With only six rooms, reservations are a good idea, especially weekends, though you could get lucky passing through town. Rates are $95 to $135 during the peak season from May to September. Off-Season rates vary.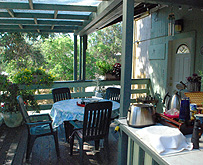 Highway 140 is the most scenic of the roads into Yosemite National Park, following the canyon the Merced River into Yosemite Valley. The park gate is about 30 minutes from the Mariposa intersection of Highway 140 from Merced and Highway 49 from Oakhurst and Fresno (see Driving Scenic 49er Highway). In Mariposa, stop at the unique little country history museum in town and see the largest gold nugget from the gold rush at the country fairgrounds (see Calfornia State Mining Museum). I don't know if the Mariposa Hotel Inn is haunted, but there's card from the local ghost society in the lobby - just in case you want to report anything. © Bargain Travel West
Find the best hotel and travel deals in Mariposa on TripAdvisor
Web Info
Mariposa Hotel Inn
These articles are copyrighted and the sole property of Bargain Travel West and WLEV, LLC. and may not be copied or reprinted without permission.
See these other travel articles on Bargain Travel West:
MURPHYS HISTORIC HOTEL

GOLD RUSH HOTELS OF GROVELAND