Travel Bargain destination in California
OAKDALE - GOURMET COWBOY COUNTRY
Barbeque and Romance - Dinner Train, Murder Mystery and Rodeo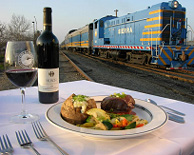 I grew up in central California and recall Oakdale as that small nondescript town at the junction of Highway 120 to Yosemite and Highway 108 to Sonora Pass over the Sierras with the rodeo stadium, inhabited by cowboys and farmers from the agricultural heart of the golden state, mostly known for its Hunts tomato sauce and west coast Hershey Chocolate plant. The chocolate factory stopped giving tours some years ago and is rumored it may soon close, and the industrial strength Con-Agra tomato processing factory is un-appetizing enough to make you swear off Ketchup forever. Yet, Oakdale, California is now a curiously unique culinary destination worth a stop on the way to Yosemite National Park or just a weekend visit on its own.
Sierra Railroad Dinner Train
The Sierra Railroad is one of the oldest surviving and operating rail lines in the Western USA, constructed in 1897 to connect California's Sierra Gold Country to the central valley to haul produce, goods, passengers and livestock into the mountains, with its terminus in Jamestown the town where gold was discovered in the Sierra Motherload (see Railtown 1897 Movie Steam Train) and originating in Oakdale, connecting to the Santa Fe main line. In 1999 the Sierra Railroad launched its Dinner Train, carrying passengers on a gourmet dining experience through the hillside scenery of golden grass and oaks. One of the first and best of its kind, the Dinner Train offers several services.

The romantic SUNSET DINNER train runs every Saturday night with a three course dinner served over the 32 mile route, with a Club Car for drinks and dancing after the meal or rear open platform for a little romantic necking surrounding by the roling countryside.

Every Friday night the Sierra Railroad runs the MURDER MYSTERY dinner show train, the longest running murder mystery performance in the California Central Valley, with alternating plots in case you want to investigate more than once.

The WILD WEST train runs on Saturday afternoons with a lunch served up along with outlaws and lawmen, holdups and a even an old west gunfight entertainment, great for families and kids

The Sierra Dinner Train runs several special themed holiday train rides and children's "Spaghetti Western" BIRTHDAY PARTIES can be arranged in a private car. They also will arrange getaway hotel weekend packages.

Reservations (800) 866-1690
330 South Sierra Avenue, Oakdale
Web Info
Sierra Railroad Dinner Train

FEED THE PEOPLE Barbeque - Top Chef Contender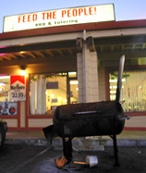 Oakdale is also home to "Feed The People" the down home gourmet barbecue comfort food restaurant of Bravo TV's "Top Chef" contestant Mia Gaines-Alt. Located in an unassuming shopping plaza next to a Cost Less market just off Highway 120 / Yosemite Avenue, with the barbeque meat smoker taking up a parking space in front and Hank Williams playing cowboy songs inside, the Feed The People restaurant is a true family affair with Mia's husband beside her at the grill and her mother, Wanda Ingram, in charge of the house, with the assistance of Mia's 11 year old daughter.
818 North Yosemite Avenue, Oakdale
(209) 848-2140
H-B Saloon and Bachi's Family Restaurant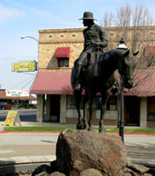 For the true Oakdale cowboy experience (especially during the Rodeo Round-Up in April) stop in at H-B Saloon ("H bar B") located on F Street (Highway 108) in the center of town just across the railroad track in a 1920's hotel building which has been a colorful fixture in Oakdale since the 1950's.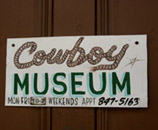 A real cowboy country bar saloon and its neighbor suburban family restaurant - Bachi's Family Style Dinner House of the same family owners, is just next to the Cowboy Museum which has taken over the old Santa Fe railroad ticket office. The bar fills up with the local boots and bikes crowd on weekend nights, and the rest of the week has the farm country comfort of a well-worn Stetson or John Deere Tractor cap.
401 East F Street
(209) 847-2985
Oakdale is about an hour and a half drive from San Francisco or Sacramento from Highway 120 east of off Highway 99 and about 20 minutes north east of Modesto on Highway 108. © Bargain Travel West
Find the best hotel deals, compare prices in Oakdale on TripAdvisor


These articles are copyrighted and the sole property of Bargain Travel West and WLEV, LLC. and may not be copied or reprinted without permission. Dinner Train photo courtesy Sierra Railroad Dinner Train.
See these other articles on Bargain Travel West:

PASO ROBLES WINE FESTIVALS
Central Coast Wine Tasting

SAN FRANCISCO'S FISHERMAN'S WHARF
Best things to do on the famous wharf by the Bay

EASY HIKING YOSEMITE NATIONAL PARK
Guided Day Hike Adventures

COVERED WOODEN BRIDGE OF KNIGHTS FERRY
River Rafting Gold Rush River Historic Site

CALAVERAS SIERRA WINE TASTING
Liquid Gold in California's Gold Country