Travel Bargain destination on the California Coast
MONTEREY BAY AQUARIUM
Sea Life on Cannery Row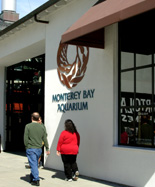 Vast windows into the ocean depths. Sharks swimming in the wave shallows with Manta Rays sifting through the sandy bottom. Three stories high kelp forest of groupers, perch and stingrays. Shifting iridescent colors of amorphous Jelly Fish like living art. Ink jetting Octopus with wandering tentacles, scuttering along the rocks. Rambunctious Sea Otters pounding stubborn mussels on the rocks they place on their stomachs while floating, like furry whiskered elves trying crack a little meal of clam on the half-shell. In 1984, the Monterey Bay Aquarium opening in the abandoned Portola Sardine fish cannery on Monterey's famed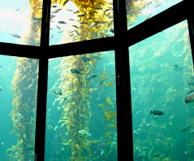 Cannery Row and was an immediate sensation, recognized as one of the best marine life exhibits in the world. Much more than just an aquarium, its style and methods has been copied by others opened since, but the Monterey Bay Aquarium continues to change and grow with new experiences, enough that regular memberships are very popular for enthusiasts to return over and over with friends and family.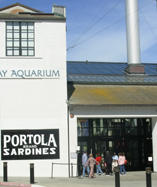 Set in the old fish factory, looking out onto the deep waters of Monterey Bay, the Aquarium's unique site was used as a location in on of the "Star Trek" movies as a whale tank. It was a special effect and there aren't any whales at the aquarium (except for the replica Blue Whale hung from a ceiling). For whale watching you need to go out on a boat from the Monterey Fisherman's Wharf, but you can wander and wonder at the beauty of the undersea world among three floors and almost 200 exhibits and galleries of over 300 species of colorful and exotic ocean life creatures. In addition to the touch tide pools, they also have special activities for kids, from sailing to Scuba and behind-the-scenes tours.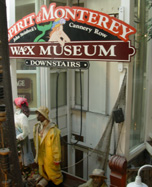 The average visit to the Monterey Bay Aquarium is about three hours and the cost is $25 for adults and $16 for children under 12. The Monterey Bay Aquarium is a non-profit organization promoting conservations of the oceans. Advance tickets online are a good idea on holidays and in the busy summer months as the lines can get very long. The Aquarium is located in Monterey's Cannery Row which has become a popular tourism destination with theme restaurants, art galleries, toys, Build-a-Bear Workshop, souvenir ships, the Steinbeck Wax Museum among other curosities.

To get to the Aquarium take Highway 1 from the 101 into Monterey and follow the signs past the old downtown and Fisherman's Wharf to the parking garage. In the summer a bus shuttle trolley links waterfront attractions to hotels and motels in the area. There are hotels located near Cannery Row, downtown (see Monterey Hotel) and toward Carmel. Monterey is about 1 ½ hours from San Francisco and 5 hours from Los Angeles (add a couple if you try to take the scenic Highway 1 coast road, beautiful but slow). © Bargain Travel West
Find the best hotel and travel deals in Monterey on TripAdvisor
Web Info - Tickets
Monterey Bay Aquarium

These articles are copyrighted and the sole property of Bargain Travel West and WLEV, LLC. and may not be copied or reprinted without permission.
See these other articles on Bargain Travel West:
PALACE OF FINE ARTS EXPLORATORIUM
Family Entertainment and Education San Francisco

PASO ROBLES WINE FESTIVALS
Central Coast Wine Tasting

BARKING BY THE BAY
The Wharf Inn - San Francisco

MISSION SAN JUAN BAUTISTA
One of the best along the El Camino Real