Travel Bargain destination in California
PASO ROBLES WINE FESTIVALS
Central Coast Wine Tasting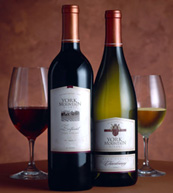 The Paso Robles between Santa Barbara and the San Francisco Bay area is California's fastest growing wine region. Over 170 wineries produce a more than forty varieties on a collection of various soils and mini-climates. Tucked against the foothills of the Coast Range mountains that separate California's central valley from the Pacific coast, in past years, Paso Robles was a small sleepy small farm community and gas stop on California Highway 101 between southern and northern California and the turning point for Hearst Castle and perhaps most notable as the town nearest where James Dean crashed in his Porsche on the infamous Highway 46 from Bakersfield on his way to a race in Monterrey, or it's more famous nearby tourist sight of Hearst Castle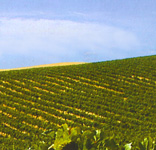 Paso Robles has grown up in the years since as wine tasting has become a vacation and past-time and wine-growing has flowered in California's rolling hills and Mediterranean climate. Winemaking has been a Paso Robles industry since 1882 when Andrew York came from Indiana and planted vineyards. York Mountain Winery is still in operation as the oldest winery in continuous operation. Zinfandel was the first variety grown and the most associated with Paso Robles. It wasn't until the 1970's that Cabernet Sauvignon, Pinot Noir and Chardonnay grapes were introduced, with addition of Bordeaux in the 90's as the appellation began to attract winemakers from around the world.
Paso Robles now celebrates it growing wine popularity with three Wine Festivals throughout the year.
Zinfandel Festival - March
Held on the third weekend in March, the Paso Robles Zinfandel Festival is the second largest tasting event of the Zinfandel variety in California. Special tasting events are held at many of the region's wineries, including dinners, special tastings, seminars and open houses. A "Grand Tasting" is held on Saturday night following auctions, both silent and loud, of rare wines, life-style and travel packages and art items.
Paso Robles Wine Festival - May
The Wine Festival takes place on the third Saturday of May in the outdoors of the city park in downtown Paso Robles when the weather of central California begins to turn warm and dry (before the sometimes brutal heat of summer). Aside from the chance to taste wines form around 80 participating wineries, vistors can begin the weekend at the Wine Festival Golf Tournament at the Hunter Ranch Golf Course, with winemaker dinners, live music events and open houses continue throughout the weekend.
Harvest Wine Tour- October
The leaves change color fast in the California coast range and October is when the grapes get harvested. Held on the third weekend of October every year, the Paso Robles wineries provide a number of activities to celebrate the harvest and crushing of the grapes. From barbecues to grape stomping, along with seminars and lessons, and special tours of the wine making process. © Bargain Travel West

Find the best deals on hotels, compare prices in Paso Robles
Web Info
Paso Robles Wine
These articles are copyrighted and the sole property of Bargain Travel West and WLEV, LLC. and may not be copied or reprinted without permission.
See these other articles on Bargain Travel West:

MOANING CAVERN
Go for a Spelunk in Calevaras Country
PALM SPRINGS AIR MUSEUM
Da Vinci flies into the California desert

VACATION TO CALIFORNIA
Like Patton Took Palermo - Desert Tank Warfare Museum