PALACE OF FINE ARTS & EXPLORATORIUM
40 Years of Touching Things at the Exploratorium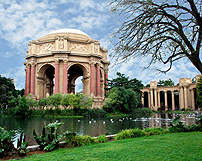 The Palace of Fine Arts in San Francisco is one of the most iconic sights and photographed structures of the bay city. Essentially a dome and columns of both Roman and Greek elements at the edge of a small lagoon lake and European style green park lined by eucalyptus trees the Marina District, the "palace" itself has no real function other than a beautiful object to be looked at and walked around. The Palace of Fine Arts Park, a place to sit and watch the ducks and seagulls. Originally constructed for the Panama-Pacific Exposition of 1915, to celebrate both the completion of the Panama Canal and San Francisco's revival from the devastation of the 1906 earthquake, the dome and columns fronted an exhibition hall presenting an impressionist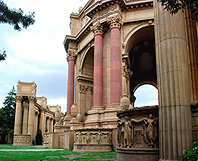 paintings exhibit. With nearly all of the other signs of the exhibition long gone. the arches and dome were intended to be temporary, built of wood, plaster and canvas like a movie set, but the city rather fell in love with it. The palace suffered from weather, time and vandalism until eventually being recast in concrete in the 1960s and a brand new earthquake retrofit in 2009. The Palace of Fine Arts has been a popular backdrop of San Francisco set films and TV shows like "Vertigo", "The Streets of San Francisco" and "Monk" and its ochre and beige dome arches a setting for many weddings. The exhibition building mostly concealed behind the arches of the palace is the real working space of the park. Once the hall where paintings where exhibited in 1915, now spilt between the Exploratorium and the Palace of Fine Arts Theater.

EXPLORATORIUM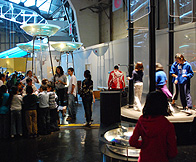 Celebrating 42 years since first conceived by Dr. Frank Oppenheimer in 1969 as an alternative to the staid form of look but don't touch museum, the Exploratorium is a wonderland for kids to explore science and technology in a hands-on fun play environment. (Adults are allowed, too, but be prepared to fight for space.) Many museums around the world have followed the example of the Exploratorium,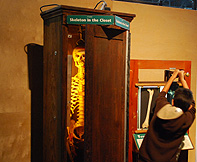 focusing on learning and discovery through touch and experience, but the San Francisco version has continued to grew and expand. Over 400 exhibits explore biology, physics, visual perception, listening, and the mind. The Exploratorium is rather like a Dr. Seuss world of tink-tinkers and woo-wookers with a science bent, from skeletons in closets to the mechanics of sound, electricity and gravity, things to grab, spin,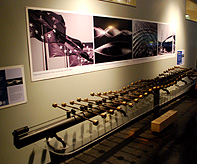 and marvel at in a two block long vast hall on two levels to spark curiosity and imagination, with new exhibits constantly under development. Theme programs and events are regularly offered at the Exploratorium, from Cow Eye Dissecting for the whole family to science workshops for home schooling. For the 40th year special events from the magic of bubbles to a man in a metal suit zapped by Tesla coils are offered. The Tactile Dome is a special space for sliding and climbing, in around and through a variety of textures in blacked total darkness.

Palace of Fine Arts Theater

Half of the exhibition building is taken up by the large Palace of Fine Arts Theater added in 1970. The theater offers a range of events from televised political debates, lectures, comedy performers, to music concerts, movie premiers and both the San Francisco International and the American Indian Film Festivals. The theater can be rented for special events and functions.

Admission to the Exploratorium is $14 for adults, $11 for ages 13-17 and $9 for childen 4-12. The Tactile Dome including the Exploratorium museum is $17 for all. Annual membership discounts are offered. To explore the palace dome and the enjoy the park is free. To get to the Palace of Fine Arts by car take Van Ness to Lombard Street following the 101 North signs to the Marina District, you'll see the signs for the palace parking area. Except for special events, daytime parking is along the side of the exhibition hall for 4 hours or street parking for 2 hours. Check the signs. By city bus, from Fisherman's Wharf take the #30 Stockton Bus. From other locations, Municipal busses 22, 28, 29, 41, 43, or 45. © Bargain Travel West

Find best hotel and vacation deals in San Francisco on TripAdvisor
Web Info
Exploratorium
Palace of Fine Arts Theater
These articles are copyrighted and the sole property of Bargain Travel West and WLEV, LLC. and may not be copied or reprinted without permission.
See these other articles on Bargain Travel West:
SAN FRANCISCO GO CARD - ATTRACTIONS DISCOUNTS
SAN FRANCISCO TO GERMANY & SWITZERLAND IN 2010
DE YOUNG MUSEUM "BIRTH OF IMPRESSIONISM"