Travel Bargain destination in California
MUSEE MECHANIQUE – SAN FRANCISCO
Old Time Arcade Machines on Fisherman's Wharf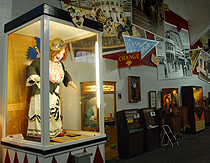 Despite the name, it is not somewhere in France, but in a shipping pier warehouse long abandoned by the ships which once docked at the Fisherman's Wharf in San Francisco. The Musee Mechanique is one of the world's largest privately own collections of antique arcade machines and mechanical musical instruments. The collection, once housed in the lower level of the famous Cliff House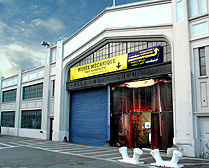 is owned by San Francisco real estate investor, historian and 5th generation San Franciscan, Edward Zellinski. When the aging restaurant on the Pacific cliff underwent a renovation in 2002, the toy box of magical machines, recalling the days of the arcades of Playland at the Beach and the Sutro Baths, was moved to the wharf at Pier 45 - fittingly the harbor pier where the WWII Submarine the USS Pampanito is docked (see WWII Submarine at Fisherman's Wharf) as Mr. Zelinski, who started collecting with a prize won in a contest when he was 11 years old, but began in earnest when returning from the war where he served in the Pacific.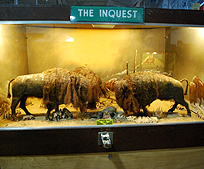 The Museum Mechanique is free to enter, the only cost is if you want to make the machines play, a quarter at a time, to bring to life the molded doll figures and machine articulated puppets at once amusing and just a bit spooky. The collection of kitschy marvels of historic arcade amusements consists of almost 300 examples of coin operated antique slot machines,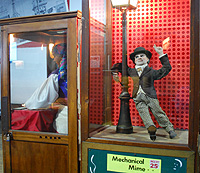 wizard boxes, fortune tellers, crane machines, miniature 1930s carnivals, dueling buffaloes, musical monkey orchestras and coin operated mimes. You might even encounter a real mime, or the ghost of Charlie Chaplin. The walls are lined with historic photos of San Francisco history and the lost boardwalk arcade era. The Musee Mechanique does not have the feeling of a museum, but just a scattered maze of warehoused toys, as if one had wandered into the basement of Xanadu, expecting to find Rosebud before its thrown into the fire (look that one up on Wikipedia!).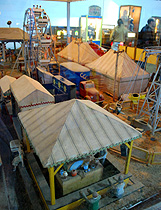 Some may find the Musee Mechanique the best couple of bucks and an hour or so one spends on the highly commercialized San Francisco Wharf, or just an odd discovery of distracted amusement, but it is now very much a part of that distinctive nature of the wharf itself, an old painted lady past its original purpose putting on a show for the passing tourist parade. The Musee Mechanique is located just next to Aliotto's and the Fisherman's Grotto No. 9 restaurants (see San Francisco Fisherman's Wharf) and is open from 10am to 7pm on weekdays and until 8pm on weekends. Take a pocketful of quarters, though they do have change machines. © Bargain Travel West

Find best hotel and vacation deals in San Francisco on TripAdvisor
Web Info
Musee Mechanique
These articles are copyrighted and the sole property of Bargain Travel West and WLEV, LLC. and may not be copied or reprinted without permission.
See these other articles on Bargain Travel West:
SAN FRANCISCO MARITIME MUSEUM
Hyde Street Pier Historic Ships
THE FRANCISCAN CRAB RESTAURANT
San Francisco Wharf Crab and Best Bay View Restaurant
SAN FRANCISCO CABLE CAR MUSEUM
Free Tour Historic Cable Car Powerhouse
SCOMA'S - SEAFOOD RESTAURANT
Best Tradition at Fisherman's Wharf
RED AND WHITE FLEET BAY CRUISES
New San Francisco Harbor Cruise