SCOMA'S - SAN FRANCISCO
Best Seafood Restaurant Tradition at Fisherman's Wharf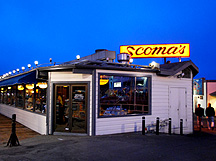 Scoma's at Fisherman's Wharf is celebrating 45 years of being the most popular seafood restaurant on the wharf. In 1965, brothers Al and Joe Scoma took over a small coffee shop on the back docks of the fishing piers serving the fishermen who plied the waters of the San Francisco Bay and the Pacific Ocean every day, for a wind down aftre the catch. Using their Italian mother's collection of secret family recipes, the brothers turned the modest dive café into a San Francisco tradition. The best views of the bay are elsewhere on the wharf (see The Franciscan) and other restaurants are more visible, others more unique (see Forbes Island Underwater), but Scoma's is the secret at the end of the waterfront docks. That's part of its charm, feeling like you're down among the real fisherman, the hideaway from the tourist central that is the wharf - though hardly a secret.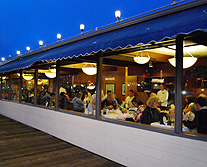 Scoma's owns its own fish receiving port station where you can go down and watch the daily catch of fresh fish and the bay's famous succulent Dungeness Crag come in and be prepared for the restaurant kitchen. Scoma's is probably best known for it Crab Cakes and Cioppino and fresh daily catch. Scoma's doesn't take reservations. Seating on first come first served basis, often making its cozy neighborhood style bar a somewhat crowded cove of conversation with new intimate friendly strangers. Casual attire is fine at Scoma's but people do dress up, too. With its reputation for the freshest seafood and friendly service, Scoma's is not a cheap restaurant, but upper moderate for San Francisco. Entrée prices are from $23 to $70. They do have a three course dinner menu deal for 39.95, starting from 5 pm.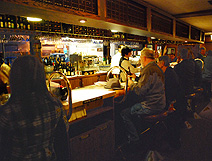 Scoma's has been awarded a Wine Spectator award in 2010 for their cellar of California and Italian wines - and for their anniversary year, the wharf restaurant is offering their famous Seafood Cakes of Dungeness Crab, Shrimp or Sockeye Salmon you can cook at home. Take them home with you, or you can order online. Recipes to try at home are available from their website. While Scoma's has never tried to turn itself into a chain, they have opened a new branch restaurant with the same family style in Sausalito on the other side of the bay.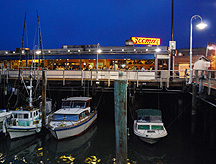 Scoma's is located at the west end of Fisherman's Wharf on Pier 47 where Jones and Jefferson Streets meet. Follow the Al Scoma Way out through the pier docks, past the fishing boats bobbing in the bay tide to the restaurant entrance. There is complimentary valet parking if you're driving. .The restaurant opens at 11:30 am everyday for lunch, with the bar opening a half hour before. And open for dinner to 10:30 pm Sunday to Thursday and until 11 pm on Fridays and Saturdays. © Bargain Travel West
Read Traveler Reviews of Scoma's at TripAdvisor

Find best hotel and vacation deals in San Francisco on TripAdvisor
Web Info
Scoma's

These articles are copyrighted and the sole property of Bargain Travel West and WLEV, LLC. and may not be copied or reprinted without permission.
See these other articles on Bargain Travel West:
SAN FRANCISCO'S FISHERMAN'S WHARF
PALACE OF FINE ARTS & EXPLORATORIUM
HYDE STREET PIER MARITIME MUSEUM