Travel Bargain destination in California
THE FRANCISCAN CRAB RESTAURANT
San Francisco Wharf Crab and Best Bay View Restaurant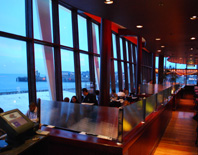 Did you know there are 4,000 varieties of crab in the world's oceans? But there is only one that is the symbol of San Francisco's Fisherman's Wharf. The Dungeness crab which grows in the cold waters off the Pacific coast known for its generous size and sweet succulent meat.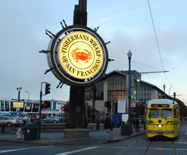 You can find crab in cocktails, sandwiches and bisques, steaming in pot along the walkways of Fisherman's Wharf, but to sit down to enjoy the tasty crustacean with the best view of the San Francisco Bay, from the cruise boats bobbing at the pier to Alcatraz Island, The Franciscan Crab Restaurant on the Embarcadero has been a San Francisco Bay landmark since it first opened in 1957, the year the Giants moved from New York to the city by the bay.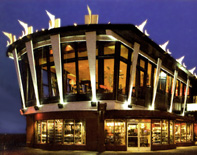 The stylish modern form of The Franciscan restaurant with its great glass view windows of sits on its own at the edge of Pier 43 1/2 where the Red & White bay cruise boats depart (see Red and White Bay Cruises). The restaurant and lavish bar reside on the floor above pier level, looking out on the lapping bay waters, a magnificent view when the weather cooperates. The stairs and entrance way are lined with the photographs of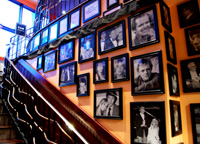 movie stars and celebrities from Ronald Reagan to Jack Nicholson who have dined and drank over the years. The restaurant interior and building were renovated in 2005 along with an updating of the classic crab menu. While many of the familiar wharf restaurants are beginning to show a little crust of time, the Franciscan now feels fresh and up to date and the proudly proclaim that Sunset Magazine declared The Franciscan's food to be the best on the wharf in 2007. Red leather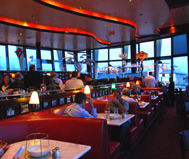 booths and hand blown glass light fixtures accompany the unique signature dishes Crab Alfredo, Crab Fondue or just a whole roasted crab. If the clawed creature is not your thing a full variety menu with an Italian flair is available, seafood, prime rib, steak or pasta dishes. The symbol of the restaurant, the Mermaid in cut crystal motif is reflected in the Franciscan's signature cocktails, the Mermaid Pomegranate Margarita and the Siren of the Sea. A souvenir menu cookbook is available for $7 to recreate the San Francisco dishes when you get back home to impress your friends and family.
The Franciscan is open from 11am to 11pm with three hours of free parking available with validation. © Bargain Travel West

Find best hotel and vacation deals in San Francisco on TripAdvisor
Web Info
The Franciscan Restaurant
These articles are copyrighted and the sole property of Bargain Travel West and WLEV, LLC. and may not be copied or reprinted without permission.
See these other articles on Bargain Travel West:
SAN FRANCISCO CABLE CAR MUSEUM
BARKING BY THE BAY: The Wharf Inn

PASO ROBLES WINE FESTIVALS
MUSEE MECHANIQUE - ANTIQUE ARCADE MACHINES