Destination in the Central California Gold Country
JAMESTOWN MOVIE STEAM TRAIN
California Gold Country Movie History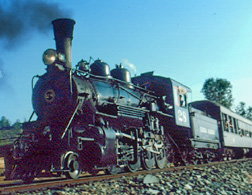 You've seen it in countless movies and TV shows, High Noon, Back To The Furture III, The Wild Wild West – the "Movie Steam Train" in Jamestown, California. In the heart of the Sierra Nevada foothills, about 4 hours from San Francisco on Highway 108, a few miles from the Highway 120 Junction turnoff to Yosemite National Park – and just a mile from where gold was discovered in the southern Mother Lode at Woods Creek – Jamestown's Railtown 1897 is run by the California State Park system and the California Railroad Museum association. For anyone who loves movies and has a child's excitement at the steam jet clank of a locomotive chugging upgrade, a visit to this cultural icon of film and rail history should be mandatory. The famous Number 3 steamer is up and running again after its most recent overhaul.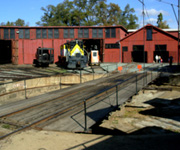 The Railtown facility has one of the only surviving and operating roundhouses on the west coast. Every Saturday and Sunday, April through October, steam train rides travel through the Gold Country unique green and gold chapparal. Trains leave the depot past the water tower famous from 60's TV "Pettycoat Junction" on-the-hour 11 a.m. to 3 p.m. and special theme excursions are offered on holidays and special occasions, including wine and cheese trips in the summer. The steam train rides are operated by the Sierra Railroad which also runs a dinner train from the Oakdale end of the line (see Dinner Train, Murder Mystery and Rodeo).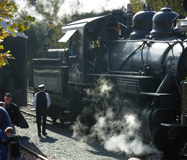 Jamestown itself is a smallish rustic throwback to California's Gold Rush days, streets of antique shops mixed with watering holes where both bikers and the mountain nouveau gentry who commute to the big valley congregate for some of the local beer brews or a Bud as well as the bikers who frequent the Harley Davidson Motorcycle shop on 108. And the "Jimtown Frosty" for a Rootbeer Float has been a landmark for travelers into the Sierra mountains for camping, fishing and skiing for many years. Jamestown is also home to several historic hotels and quaint bed & breakfasts. © Bargain Travel West
Find the best hotel and travel deals in Jamestown on TripAdvisor
Web Info
Railtown 1897

These articles are copyrighted and the sole property of Bargain Travel West and WLEV, LLC. and may not be copied or reprinted without permission.
See these other articles on Bargain Travel West:
Destinations California:

COLUMBIA STATE PARK
Travel Gem of the Gold Rush

ORANGE EMPIRE RAIL MUSEUM
Living history for railroad buffs
GO NATIVE TO YOSEMITE
The Groveland Hotel - Gold Country Sierra Nevada
YOSEMITE MOONLIGHT STEAM TRAIN
Suger Pine Railroad
NEVADA STATE RAILROAD MUSEUM - CARSON CITY
Railroad History and Movie Trains