Travel Bargain destination in Los Angeles
"MUMMIES OF THE WORLD"(Sorry - Have Moved On)
California Science Center - Los Angeles Exposition Park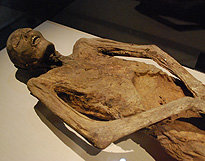 Some may claim that Southern California is already the land of bronze burnished sun-dried remains of human beings, stuffed with foreign material to hold their shape, devoid of heart and soul, but at least until the end of November, 2010, real actual mummies from around the world have come to Los Angeles. The "Mummies of the World" is a traveling exhibit commencing its tour of museums, making its premiere debut at the California Science Center in Exposition Park.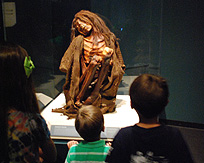 A groundbreaking exhibition which for the first time brings together a collection of 150 examples of real human and animal mummies, along with related artifacts from Egypt, Asia, South America, Europe, and the South Pacific. We mostly think of mummies from Egyptian tombs - or horror movies - wrapped and prepared by priests and artisans, but many of the worlds mummified human bodies happen naturally, or perhaps unnaturally, caught in bogs, in ice, in deserts or in the cool dry air of underground crypts, like aging bottles of wine. The fascinating and just a bit creepy "Mummies of the World" exhibit allows a very close up look at these mysterious artifacts of the living cycle, offering visitors multi-media and hands-on interactive exhibit stations along with 3-D animations, transforming audiences into amateur "mummyologists™", learn how mummies are created, where they come from and who they were.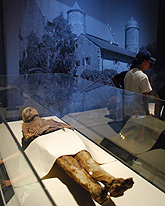 Most of the mummies on display come from athe collections of European museums in Germany, Switzerland and the Netherlands. A couple come from the crypt of a castle along Germany's "Romantic Road". Some of the more fascinating examples: the Detmold Child, a Peruvian child mummy, radiocarbon dated back 6,420 years, almost 3,000 years before the birth of King Tutankhamun; three members of the Hungarian Orlovits family from the 18th Century, mom, dad and child, discovered in a church crypt all buried in full dress; an elaborated wrapped Ptolemaic cat mummy; and the complete sarcophagus and mummy of an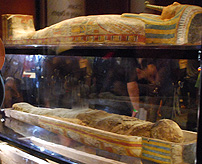 Egyptian man named Nes-pa-qa-shuti, found at Akhmim from about 650 B.C.. From the family crypt of a castle in northern Bavaria near Dinkelsbuhl, a 17th Century nobleman, the Baron von Holz, a soldier in the Thirty Years War buried with his boots on, found along with a relative, the Baroness Schenck von Geiern in the crypt tunnel of Sommersdorf Castle. They had lain undisturbed along with three other mummified relatives of the von Crailsheim family until found by soldiers of Napoleon. You can actually stay at the castle and visit the crypt (see Sommersdorf Castle) while the mummies are away on tour. Along with the mummies museum exhibit is a companion movie, "Mummies 3D: Secret of the Pharaohs" at the IMAX Theater at the Science Center.
Visiting California Science Center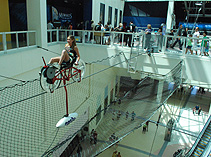 The California Science Center offers far more to do than just the mummies. Permant features with lots to fascinate kids, including the Ecosytems world - explore an underwater kelp forest, deserts and island habitats featuring a mix of live plants and animals, and hands-on science exhibits. The World of Life hall probes the processes of the living world, with galleries of hands on explorative interactive activities from the single-celled bacterium to 100 trillion-celled human beings. The SKETCH Foundation Gallery of Air and Space Exhibits presents real artifacts of space travel and aero technology, feature three space capsules from the Mercury, Gemini and Apollo program, satellites and jet planes, along with hands-on exhibits that show how scientific principles affect air and spacecraft design. Other purely entertaining activities like a high wire bike and hurricane booth, and green screen studio promise to keep kids occupied for a good few hours.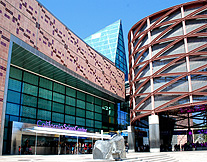 The California Science Center and IMAX Theater are located in Exposition Park next to the Los Angels Colosseum and the USC campus. just west of the Harbor (110) Freeway at Figueroa and Exposition Park Drive. Admission to California Science Center regular and permanent exhibits is FREE, but the "Mummies of the World" special exhibit is $19.50 for Adults, $16.50 for Student and Seniors, $12.50 children 4 to 12. IMAX ticket prices range from $4.75 to $8.25. Tickets for Museum Members is discounted and combined exhibition and IMAX tickets range from $16.50 to $25.75. Parking is available in the lot at Figueroa and 39th/Exposition Park Drive for $8 per car. © Bargain Travel West
Find the best hotel deals, compare prices in Los Angeles
Web Info
California Science Center

These articles are copyrighted and the sole property of Bargain Travel West and WLEV, LLC. and may not be copied or reprinted without permission.
See these other articles on Bargain Travel West:
Destinations California - Los Angeles
DINOSAURS ATTACK LOS ANGELES
LA Natural History Museum - New Dinosaur Hall
LA BREA TAR PITS & PAGE MUSEUM
Ice Age Fossils in Los Angeles

FORMOSA CAFÉ AND JONES
Hip Hollywood Never Gets Old
THE GEORGIAN HOTEL
Art Deco Ocean Views in Santa Monica
YAMASHIRO RESTAURANT
Hollywood Views Landmark
BOB HOPE BURBANK AIRPORT
Avoid the Hassle of LAX
LA LIVE - DOWNTOWN LOS ANGELES ENTERTAINMENT
Staples Center, Nokia Theater, Restaurants and Clubs