Travel Bargain destination in Los Angeles
YAMASHIRO RESTAURANT
Hollywood Landmark Japanese Style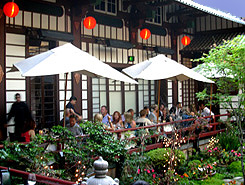 First stop on a visit to Hollywood is the long famous footprints at Grauman's Chinese Theater where you can measure your Nikes to John Wayne's boots, Marilyn Monroe's heels (and lips!) and whatever those things on C3P0 and R2D2's feet were. But a glance up the hill at the end of Orange Ave., above Hollywood Boulevard and just behind the Magic Castle Club and Hotel is another icon of oriental architecture, the Yamashiro Restaurant. And if you think it looks like a palace from a Japanese Samurai movie, you'd be right.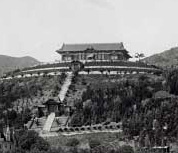 Yamashio means "Mountain Palace" in Japanese and this replica of a palace in the Yamashiro mountains of Japan near Kyoto, has stood on a hill looking over Hollywood like a jewel in the crown since first conceived by two brothers in 1911, originally designed as a private residence to house their Asian art collection. The Chinese Theater which came later took its inspiration from the palace on the hill, though the Yamshio is Japanese. nit Chinese, but then Hollywood was taking much of its arctitectural inspiration from around the world. In the golden days of Hollywood's past it served as a private club for silent era movie stars and was disguised and hidden during the anti-Japanese scare of WWII. It's unique true to original architecture has been used in countless movie and TV productions from "Shogun" to "Memoirs of a Geisha". It is now a restaurant serving award winning California Asian cuisine.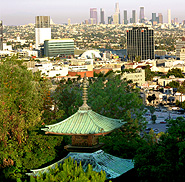 Any visit to Hollywood should take you up the hill to this unique dining and drinking spot. Stroll through a hillside formal Japanese garden above Hollywood Boulevard before dining in the unique inner courtyard with Koy fish swimming in the garden pools. Or just come for a drink in the lounge with full glass windows looking out over magnificent twinkling lights, with one of the best sunset views of Hollywoof Hollywood and Los Angeles, where you can see from downtown to the beaches of Santa Monica (in clear weather). A must for any visit to Hollywood to take you back to the former golden glory days of the silver screen. And of late, the Yamashiro has taken to hosting a Farmer's Market every Thursdays with parking on La Brea and shutlle access. © Bargain Travel West
Compare the best hotel deals in Los Angeles on TripAdvisor
Web Info
Yamashiro Restaurant

These articles are copyrighted and the sole property of Bargain Travel West and WLEV, LLC. and may not be copied or reprinted without permission.
See these other articles on Bargain Travel West:
MADAME TUSSAUDS – HOLLYWOOD
Wax Movie Stars of Hollywood Boulevard
THE GEORGIAN HOTEL
Art Deco Ocean Views in Santa Monica
SANTA MONICA PIER
Historic Amusements of the Pacific Park
JAMESTOWN MOVIE STEAM TRAIN
California Gold Country Movie History
HOLLYWOOD & HIGHLAND
Visitor Central of Hollywood Boulevard