Bargain Travel West guide to unique destinations, sight-seeing, history and culture,
budget travel vacation ideas for the independent traveler.


FIND THE BEST

Travel Bargain destination in California
OXNARD STRAWBERRY FESTIVAL
Outdoor Family Entertainment Celebration on California Coast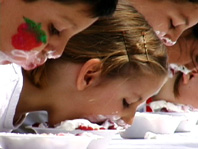 Strawberries, strawberries, strawberries. Red, ripe, chocolate dipped, caramel creamed, Kahlua drenched, shortcake and whipped cream. There are many places in the world that grow strawberries. I hear Chile even has a few. A strawberry festivals can be found around and about, including motorcycles in the California Sierras. But the region of the southern California coast along Highway 101 between LA and Ventura is known as the "Strawberry Coast". Familiar fields of green low plants in deep straight arrow rows, covered in plastic in the cool season, appear in red ripe baskets in the spring. May is the pinnacle of California strawberry season and for 25 years Oxnard, the capital of the strawberry coast has been celebrating the delicious, sensuous true love fruit.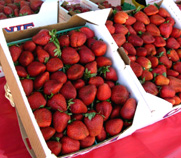 The California Strawberry Festival in Oxnard, California is held on a weekend in the middle of every May at the Strawberry Meadows of College Park in Oxnard. One of the top outdoor festivals in the U.S. where music mixes with the red magical fruit served in every imaginable concoction, a fun-packed sweet family tradition. The music headliners for the anniversary years are the raucous jumping beat of LA local favorites Big Bad Voodoo Daddy and the E Family with Shiela E. Aside from the music entertainment, the festival features the Strawberry Promenade with cooking and berry decorating demonstrations, three hundred Arts & Crafts booths, the world-famous Budweiser Clydesdales will be clopping around and Strawberryland For Kids offers rides and attractions, gooey contests and the Star Berry Hunt, to keep the sugar-hypered young ones from exploding.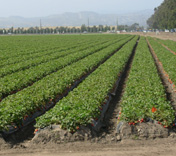 Oxnard is located 60 miles north of Los Angeles and 30 miles south of Santa Barbara. Getting close to the festival grounds with a car can be an adventure, but free Park & Ride "Strawberry Express" shuttles can be had from parking locations off the 101 Freeway. Or stay off the highway and take the train. Amtrak keeps with the green theme with a special Festival weekend "Kids Ride Free" promotion (shuttles meet the trains). A train ticket from Los Angeles' Union Station to Oxnard runs about $17. On site parking at Strawberry Meadows of College Park 3250 S. Rose Avenue in Oxnard, is free.

General admission for adults is $12, seniors 60 and over $8 and children aged from 5-12 are $5. Children 4 and under are free. Active military and dependents with ID are $8. Special VIP tickets can be purchased in advance. Hours are 10:00a.m. to 6:30p.m. both days. Advance tickets can be purchased via the website at www.strawberry-fest.org.

Don't eat for about three days before, because you'll need space for eponymous delicacies from strawberry kabobs to strawberry pizza and even strawberry beer from over fifty and beverage booths. Take home berries fresh from the field and take a towel if you have a taste for "in your face" entertainment, prepared for a messy encounter with the strawberry tart toss, pie eating contest and strawberry stomp! © Bargain Travel West

Find the best hotel and travel deals in Oxnard on TripAdvisor
Web Info
Strawberry Festival
Visit Oxnard
These articles are copyrighted and the sole property of Bargain Travel West and WLEV, LLC. and may not be copied or reprinted without permission.
See these other articles on Bargain Travel West:

WOOLWORTH BUILDING MUSEUM