SAN FRANCISCO TO GERMANY & SWITZERLAND
Air Berlin and Swiss International Begin Air Service from SFO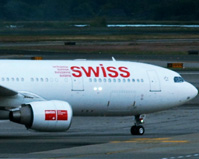 San Franciscans, the dollar is improving overseas, so find yourself a Goethe Institute and start brushing up your German! It's time to reverse the Gold Rush and head back to Europe! Two of Europe's cool air carriers, both Air Berlin, Germany's second largest airline, and Switzerland's premier carrier Swiss International Airlines offer new direct service to Europe from SFO.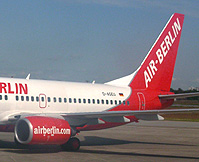 Air Berlin was the first to go with two flights per week to Dusseldorf, expanding to three per week in 2011. Dusseldorf is a surprisingly beautiful and fascinating city with its old town section meeting the ultra modern Media District on the mighty Rhine River, not to mention shopping along the "Ko" giving the town the nickname of "Little Paris". Dusseldorf makes for an excellent jumping off point for seeing the rest of Germany, the castles of the legendary Middle Rhine, wine vineyards of the Mosel, to the car and festival city of Stuttgart, with its brand new Porsche and Mercedes Museums. Air Berlin offers convenient connecting short hops to Berlin and other cities (see AirBerlin EuropePass Deal).
SWISS offers direct service from San Francisco International Airport to Zurich departing at 7:25 pm outbound from SFO six days a week on a brand new Airbus 340 with three classes of service, economy, business and first. Zurich is a sister city of San Francisco and visitors there will feel quite at home on the shores of Lake Zurich with its world famous luxury shopping on Bahnhofstrasse. SWISS Business Class offers passengers new innovative seats with air cushions that can be individually adjusted for comfort levels and fully reclinable. Zurich's airport is one of the most modern in the world with connecting flight to almost anywhere else you might want to go. Get yourself a Swiss Pass and see the Alps!
Don't worry, you really don't have to learn German to tour gorgeous Switzerland or sumptuous Germany, most folks you'll encounter in the hospitality business will speak English, and even if someone says they only speak "a little" its probably better than your average fifth grader. And even if you're not from San Francisco, connect through "city by the bay" and see one of America's most beautiful cities before heading off to discover the great cities of Europe. © Bargain Travel West
Find a Last Minute Air Deal at Expedia

Find best hotel and vacation deals in San Francisco on TripAdvisor
Web Info
SWISS

Air Berlin

These articles are copyrighted and the sole property of Bargain Travel West and WLEV, LLC. and may not be copied or reprinted without permission.
See these other articles on Bargain Travel West:
PALACE OF FINE ARTS & EXPLORATORIUM