Travel Bargains in California
SAN FRANCISCO ATTRACTIONS - GO CARD
Discount Passport Card For Sight-Seeing Savings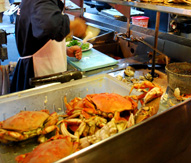 San Francisco is undoubtedly one of the most beautiful and fascinating cities in the world. Cables cars topping the hillside views of fog embracing the Golden Gate Bridge. Fresh bay Dungeness crab in the pots of the Fisherman's Wharf where the fishing boats bob in the tide on restaurant row. Historic ships at the docks, museums, missions, some of the world's best restaurants and wine country. But how to decide what to do in San Francisco and how to see it all without spending a fortune? Try a Go Card.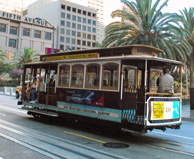 The idea of combining the costs of attractions and activities into the price of a "pass" is not new. A company called Smart Destinations has created a product for touring the world's most popular tourist cities at a discount savings called the "Go Card" and "Explorer Pass" The cards are designed to include a whole collection of attractions into a one price flexible card. Go Cards are available for single days or multiple days and cover all the attractions available. An Explorer Passport is a variation which allows, depending on the price, 2 to 7 different choices which can be used for a month.
Go San Francisco Card - Over 50 Attractions - Save up to 40% compared to individual tickets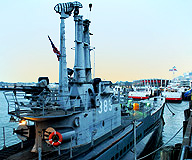 In San Francisco the Go Card includes 50 of the most popular attractions and activities in the Bay Area: Golden Gate Bay Harbor Cruises, the Aquarium, Six Flags Theme Park, the USS Pampanito WWII Submarine (see WWII Submarine at Fisherman's Wharf) and the USS Hornet Aircraft Carrier which recovered the Apollo 11 Astronauts, Gray Line Trolley Tour, Bike Rental, The California Academy of Sciences, a tour of the AT&T Ballpark home of the San Francisco Giants, to name a few with activities as far away as whale watching in Monterey and wine tasting in Napa Valley. You don't have to decide in advance what you want to do, just go. The cards come with a brochure with all the attractions, how to get there, where to eat and shop. You pay one discounted price and don't have to worry about all the credit card receipts or looking for bank atms to scramble for enough to cover the family.

Are the discount card passes like Go Card worth the price? Do they really save you money? Like all combined discount passes, the cards are worth it if you use them at enough attractions. The provider has based their price on special discounted cost they negotiate with the attractions. If they weren't of value, no-one would use them, but they've become quite popular. The cards add convenience – you just hand the card at the ticket window, they swipe the electronic stripe, hand it back and through you go. For tours or some limited locations it's suggested to call ahead to reserve a place. You may end up going to places and seeing things you never even thought of. In addition to the admissions to attraction included in the card are extras like coupons and discounts to restaurants and shopping. If taking a west coast vacation Go Cards and Explorer Passes are available for other cities like San Diego, Los Angeles and Seattle so you can cover your whole trip. © Bargain Travel West
Call Now for San Francisco Go Card : 866-943-5015
Web Info
San Francisco Go Card
Find best hotel and vacation deals in San Francisco on TripAdvisor

These articles are copyrighted and the sole property of Bargain Travel West and WLEV, LLC. and may not be copied or reprinted without permission. The Go Card is an advertiser on this site.
See these other articles on Bargain Travel West:
SCOMA'S - SEAFOOD RESTAURANT
Best Italian Seafood at Fisherman's Wharf
THE FRANCISCAN CRAB RESTAURANT
San Francisco Wharf Crab and Best Bay View Restaurant
SAN FRANCISCO CABLE CAR MUSEUM
Free Tour Historic Cable Car Powerhouse

MONTEREY BAY AQUARIUM
Sea Life on Cannery Row