Travel Bargain destination in California
SACRAMENTO WINE TOURS
A New Company in Town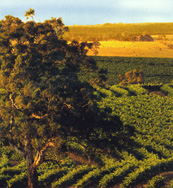 Over 200 wineries are now within 60 miles of the rolling golden foothill hillside environs of the California State Capital in 6 counties aside from the more familiar Napa and Sonoma. Wine fans visiting Northern California or the burgeoning poulation of locals can now enjoy tasting tours at the area's most popular wineries, discover the new and unfamiliar along with some intimate hidden gems on the way. Sacramento Wine and Nightlife Tours will be offering tours which showcase wineries in Amador, Sacramento, San Joaquin, Nevada, Placer, El Dorado and Calaveras counties.
Grady and Gina O'Bryant are the operators of this new service. The O'Bryants moved to Sacramento from from Alaska, where they operated G.O. Transportation Services catering to Alaskan tourists, but decided it was long past time for a convenient way for visitors to the wineries of the Central Valley to enjoy an afternoon of wine tasting in the Sierra Foothills. Until the O'Bryants started their company, the Sacramento Convention and Visitors Bureau had no tours to recommend and most limosine companies were only hauling wine tasters off to Napa. The O'Bryants' main goal is to make sure that both their customers and the wineries have a pleasant experience with Sacramento Wine and Nightlife Tours.

Grady and Gina have been working to develop good relationships with winery owners, working closely with them to create an ideal wine experience for their visitors, posting wine tasting etiquette on the Web site and printed material and make sure to fit the right group to the most appropriate vineyard. Partnering with one of the capital's largest limousine companies, with a selection of sedans, limousines, mini-buses and motor coaches, Sacramento Wine and Nightlife Tours provides the perfect sized tour to fit any group large or individual. © Bargain Travel West
Compare best hotel and travel deals in Sacramento on TripAdvisor
Web Info:
Sacramento Wine and Nightlife Tours
916-443-8741
These articles are copyrighted and the sole property of Bargain Travel West and WLEV, LLC. and may not be copied or reprinted without permission.
See these other articles on Bargain Travel West:

PASO ROBLES WINE FESTIVALS
Central Coast Wine Tasting

HARRIS RANCH RESTAURANT & INN
Famous Steak Rest Stop on California Interstate 5

THE MONTEREY HOTEL
History and Jazz on Monterey Bay

WHALE WATCHING AND WINE TASTING IN MENDOCINO
Wine and Whale Festivals on California Coast
THE SECRET GARDEN BY JEEP
Cloud Climbers Tours All Around Ojai